Does 'big data' mean the end of community policing?
Author: Bruce Andrews
Publication Date: Wednesday, 7 Nov 2018
* As 'crime moves indoors' with digital technological change, so does policing, thus creating a 'paradigm shift' in the way policing is provided
* As societies change, new challenges threaten to undermine the capability of the police to protect the public and undermine public perceptions of what the police can actually do
* Budget cuts and reductions in resources lead police services turn to technology to assist them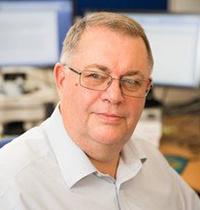 A leading Charles Sturt University (CSU) policing academic argues that traditionally provided day-to-day policing services are at risk as police agencies across the world struggle to deal with increased and more complex demands upon their time, energy and resources.
Professor of Policing and Law at CSU, Colin Rogers (pictured), told the CSU-hosted International Policing Conference 2018 in Sydney that it is understandable for policing services to rationalise their activities.
"Trying to maintain a decent level of service − 'more for less', or even the same for less − becomes a constant struggle," Professor Rogers said.
"In many instances policing services are also suffering large budgetary cuts and reduction in resources, so it's no surprise that police, as with many other public agencies, turn to technology in order to assist them in this struggle.
"In particular the use of data, be it big or small, and the introduction of the algorithm and predictive policing, along with other forms of technology, appears to offer the answer."
Professor Rogers noted that for a number of years, neo-liberal democratic societies have immersed themselves in a form of policing variously called community policing, community-oriented policing, or civil policing, along with its component parts of problem-oriented policing (POP) and the analytical tool called SARA, in part echoing the global rise in democratic governance in many countries.
"However, new challenges, as societies change, threatens to undermine the capability of the police to protect the public, as well as undermining public perceptions of what the police can actually do," he said.
"The traditional model of policing is apparently under threat, and probably no longer suited to tackling new and emerging crime types and the societal behaviours that data and technology are enabling.
"Furthermore, there is a complex interplay between the speed and impact of digitisation that is allowing criminal networks to operate in a borderless fashion, as well as societies changing cultural norms, and an increased need for policing to tackle crime online.
"Crime is moving indoors, we are told, online and away from the streets. As a result, communities have also moved online and require online policing, especially when it comes to what is termed 'complex crime'."
Professor Rogers asserts, as other leading police executives have contended, that providing traditional services to an expectant public is ever more challenging and, on occasions, impossible.
"Shortages of staff and police cuts are often pointed out as putting the public safety at risk," he said.
The question he posed to the conference is, "How best can we understand and explain the way policing is moving, and has been moving, from people-centred to data- and technology-centred?"
Professor Rogers explained that policing was experiencing a change of operational models and thinking ('paradigmatic shifts') which can take time as new ideas and concepts come to be accepted as new 'normal' science.
"Of course, we should not be afraid of change as it is a natural course of social events and life itself, but we should recognise the change for what it is, and try to manage it accordingly, especially when it has the potential to damage relationships within the community," he said.
"The problem for police agencies is one of maintaining public support and enhancing the legitimacy of the police.
"The history of the police, according to revisionist and traditional commentators alike, is one of becoming socially acceptable through day-to-day contact with the public and providing many of those services that do not count in crime statistics, what some call the service elements of policing.
"The changing nature of the way police deliver their services, the paradigmatic shift from one form of normal science (community driven) to a different 'normal science' (predominantly data driven), in part forced by eternal factors such as economics and political philosophy, especially, as others point out, there is a global political shift towards the right-wing.
"This means that senior police officers and those responsible for ensuring the delivery of policing services, need to plan ahead in order to manage and deal with the expectations of the public and ensure public support for police legitimacy when using more and more data and technology such as predictive policing.
"In other words, we must be careful that in rushing to seek a technological answer to the problems of modern policing, we do not throw out the 'community support baby' with the bathwater."
Professor Rogers presented his Keynote Address 'Predicting the end of community policing? Thoughts on big data and the future of policing' at 2.15pm on Wednesday 7 November at the 2018 CSU International Policing Conference in Sydney.
Find out more about the conference here:
https://bjbs.csu.edu.au/schools/policing-studies/conference/international-conference
ends
Media contact: Bruce Andrews, 0418 669 362
Media Note:

Contact CSU Media to arrange interviews with Professor Colin Rogers.