CSU students secure prestigious rural scholarships
Wednesday 12 Apr 2017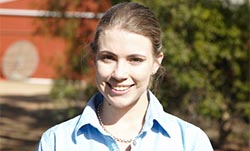 Charles Sturt University (CSU) animal science student Ms Rachel Gawne is the joint recipient of a major sheep industry scholarship - the 2017 Peter Westblade Scholarship that promotes the practical skills associated with the sheep and wool industry.
The 22-year-old CSU student (picture left) wants to empower producers to make management decisions that benefit flocks and increase returns. Now entering its sixth year, the scholarship will provide opportunities and in-kind support worth up to $10 000 over 12 months.
"I am not off a farm but I have always had a love for agriculture and when I discovered the sheep industry I knew that was for me," Ms Gawne said.
"The scholarship will enable me to 'soak up' information on the sheep and wool industry."
It comes as CSU students across a number of programs including agribusiness, agricultural science and veterinary science have been awarded a variety of prestigious scholarships in recognition of their outstanding leadership qualities and commitment to local communities.
Agricultural business management students Ms Aimee Bolton, from Wagga Wagga, and Ms Emily Sinderberry, from Condobolin, have secured two of the five 2017 Angus Australia Foundation Study Scholarships to support their studies in the beef industry.
Running her own Red Angus herd, Ms Bolton wants to work in the meat science industry within Australia as well as globally
Ms Bolton said, "I believe that the beef industry has very much influenced the person I am today, through the lifelong friendships and contacts I have made and the travel opportunities it provides through junior shows, such as the Angus Youth National Round Up."
CSU student Ms Sinderberry began studying a Bachelor of Agricultural Business Management through CSU online in 2016.
"I have just advanced to full time studies through CSU online and I am looking forward to contributing to the Australian beef industry on completion of my degree."
Of the nine Rural Bank Scholarships awarded in 2017, four are from CSU. There were 136 applicants for this scholarship with organisers acknowledging the significant jump in female applications for the scholarship program.
Rural Bank Scholarships are valued at $5 000 and aim to help each student to contribute to the Australian agricultural sector.
The winning CSU students are: