Inaugural Navigator entrepreneur heads to Sydney
Thursday 10 Aug 2017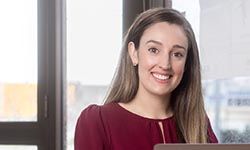 A Charles Sturt University (CSU) student will fly the flag for regional entrepreneurs when she attends the inaugural Navigator program with the Sydney School of Entrepreneurship (SSE) starting this month.
Ms Casey Bootsma (pictured), who is due to graduate from CSU in December this year with degrees in marketing and public relations, is the only student chosen for the program from outside metropolitan Sydney.
"The Navigator program is an opportunity for university students to develop their understanding of how entrepreneurship works in their local community," said Ms Bootsma, who also attended Billabong High School in Culcairn.
"Students will build networks, find potential business partners and define the role they want to play in creating the next generation of Australian businesses."
The program will be led by SSE's Professor Roy Green in collaboration with academic staff from 12 partner institutions, as well as contributions from industry experts, policy makers, entrepreneurs, and advisors.
Ms Bootsma received her opportunity to participate in the program through her current employer, Regional Development Australia (RDA)-Murray.
"I hope the Navigator course will provide me with important theoretical and practical experiences that will accelerate my skills development and nurture my natural entrepreneurial spirit," she said.
The course will be taught in 10 modules using online materials, lectures, webinars and discussions, and face-to-face group work and relevant exercises. Ms Bootsma's first intensive study block commences in Sydney on Monday 14 August.
RDA-Murray CEO Dr Gary Saliba said, "I heartily congratulate Casey on gaining this scholarship. Having Casey trained in this area will greatly assist RDA-Murray's aim to support entrepreneurs in the NSW Murray region".
ends
Media contact: Bruce Andrews, (02) 6338 6084
Media Note:
For interviews with Ms Casey Bootsma, contact CSU Media or Dr Gary Saliba from RDA- Murray on mobile 0419 487 872.