Helping students succeed wins award for CSU
Wednesday 13 Sep 2017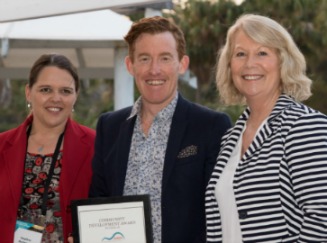 A Charles Sturt University (CSU) initiative to ensure that online students in regional communities have the opportunity to succeed has received a national innovation award.
CSU's Outreach Program won the runner-up award in the Community Development category at the 2017 Regional Development Innovation Awards presented at the Australian Regional Development Conference in Coffs Harbour on Monday 11 September.
CSU Outreach was placed second in a field of just under 60 nominations for organisations active in regional development throughout Australia. These consist of councils, shires, rural and regional organisations, non-government organisations, and branches of government agencies.
Director of Engagement in the CSU Office for Students Mr James Brann (pictured centre left) said, "It is an honour to be recognised for the work we do.
"The team works really hard travelling around the country supporting our online students, and to be rewarded like this is really special."
CSU's Outreach Program ensures that online students in regional communities have an opportunity to be successful regardless of their educational background or location.
Since 2012, the Outreach Program has travelled to cities and towns in every Australian state and territory, making almost 8 000 interactions with students studying online.
"The support and development of the University's students is particularly important to regional communities and surrounding areas," Mr Brann said.
"Students who are supported to study online in their communities are more likely to continue to live and work in the local area. Four out of five online students stay in the regions to use their new skills.
"The CSU Outreach Program, in partnership with regional areas, is a unique program to ensure our students are successful contributors to ongoing regional development.
"The Outreach Program is part of a wider commitment by Charles Sturt University to be a university of the regions, for the regions."
From the establishment of its predecessor institutions starting with the Experiment Farms in Bathurst and Wagga Wagga in 1895, CSU has grown to become one of the largest universities in the country, generating more than $500 million and 5 000 jobs for rural and regional communities annually.
CSU provides relevant and accessible training that meets the needs of its regions. Courses in disciplines and sectors such as health, education, business, agriculture and social work help train professionals to serve the regions.
CSU also has the highest graduate employment rate in Australia, with 84 per cent of graduates being in employment shortly after graduation.
ends
Media contact: Bruce Andrews, (02) 6338 6084
Media Note:

Contact CSU Media to arrange interviews.
Photo L to R: Ms Heather McGregor (TAFE NSW, award sponsor); CSU's Mr James Brann; Cr Denise Knight (Mayor of Coffs Harbour)