CSU supports defence industry development in NSW
Monday 21 Aug 2017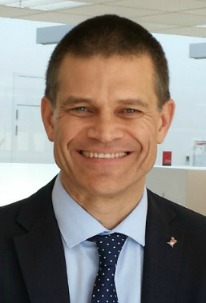 Charles Sturt University (CSU) Vice-Chancellor Professor Andrew Vann has presented a submission to a state government review of defence industry development in New South Wales (NSW).
Professor Vann (pictured) delivered the submission to the NSW Department of Industry Standing Committee on State Development's review of defence industry in NSW at its public hearing at the Orange Ex-Services Club on Monday 14 August.
The submission emphasised that CSU offers a comprehensive suite of teaching, learning and research that focuses on addressing rural and regional labour market needs, including those of the Australian defence forces and NSW defence industries, growing regional economies, and preparing students for the jobs of the new economy in regional and rural, as well as metropolitan, Australia.
He drew the committee's attention to three key areas: technology development and commercialisation; community capability and capacity; and ensuring success.
"On the first point, we believe that the government's outcomes and objectives would be best achieved through additional state investment in a range of initiatives that would strengthen implementation of the strategy," Professor Vann said.
"These include the defence industry innovation, research, education and future workforce elements of the government's statement be strengthened by direct investment, including:
a defence industries technical skills development fund of up to $25 million per annum;
a professional development fund of up to $10 million per annum;
implementation of a 'development-intensive' research fund of at least $25m per annum modelled on the highly successful Small Business Innovation Research Program (SBIRP) in the United States."
The submission notes that the SBIRP is largely credited with the technological, industry, investment and export success of the US, not only underwriting the technological superiority of US defence capability, but giving rise to the firms of the future.
Professor Vann told the committee that implementation of an SBIRP in NSW to provide public funding to develop research and development partnerships between defence and small to medium enterprises (SMEs) will lead to highly innovative solutions to often intractable defence challenges.
CSU recommended the establishment of a Ministerial Council for Defence Industry Development as well as the establishment of a committee of the Ministerial Council for Defence Industry Development that would focus on defence force and defence industry development in the regions.
"This committee would work towards maximising the regional economic benefit attained from colocation of Defence bases and defence industries in the state's regional centres, its membership would be drawn from regionally-based Defence, industry, scientific, educational and training and community sectors," Professor Vann said.
See CSU's full submission to the Inquiry.
Central to CSU's submission is its teaching and research capabilities and capacity for defence applications of information technology (IT), cybersecurity, image processing, data analytics, machine learning, sensor network, and simulation and modelling.
Assisting Professor Vann with the CSU submission to the hearing are leading experts in the CSU School of Computing and Mathematics Professor Chang-Tsun Li (Professor in Computer Science) and Professor Terry Bossomaier (Strategic Professor, Computing and Information technology).
Professor Li has 22 years' experience with the Taiwanese army and the US navy, and extensive academic research experience in the UK and internationally. He has published five books and over 160 refereed papers. He is currently the coordinator and principal investigator of the European Union Horizon 2020 project, a consortium of 16 institutions from 12 countries.
Professor Bossomaier is a leading expert in complex systems. He has published several books about sensory information processing, complex systems, and information theory. He taught and researched at universities in Australia and the UK, and led national and international conferences and networks about information and complex systems.
Other notable members of the CSU research team include Dr Li-Minn Ang, Dr MD Rafiqul Islam, Associate Professor MD Zahidul Islam, Dr Xufeng Lin, Associate Professor Manoranjan Paul, and Associate Professor Tanveer Zia.
ends
Media contact: Bruce Andrews, (02) 6338 6084
Media Note:
Contact CSU Media to arrange interviews with Professor Andrew Vann.