Hope for primary school science education
Wednesday 20 Dec 2017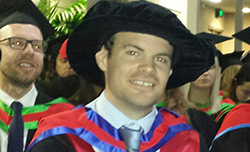 Research by a Charles Sturt University (CSU) PhD graduate offers hope for enhanced science literacy in Australian classrooms.
PhD graduate Dr James Deehan (pictured), an associate lecturer in the CSU School of Teacher Education in Bathurst, said in an era where scientific literacy is a clear necessity, Australia's science education system is mired by intergenerational disengagement and poor outcomes.
"Negative perceptions of science and limited scientific literacy in childhood often persist into adulthood," Dr Deehan said.
"Since many stakeholders − including teachers and students − are influenced by their own inadequate science education experiences, this cycle is challenging to break."
Dr Deehan's research was conducted over nine years from 2007 and has been presented in six publications. The research included a meta-analysis of research which used the Science Teaching Efficacy Belief Instruments (STEBI-A/B), and described two complex, innovative science courses..
The research focused on pre-service primary teachers, due to their foundational position, accessibility, and potential to enact long-term changes in science education. He collected and analysed data, including surveys and interviews from 877 pre-service and in-service teachers over an eight-year period.
"Firstly, I aimed to establish a broader context of science research, prior to then investigating the science teaching efficacy beliefs and science perceptions of pre-service primary teachers enrolled in two complex, innovative science courses," Dr Deehan said.
"I then explored the graduating participants' transition to teaching, their in-service science teaching efficacy beliefs, and their reported science practices.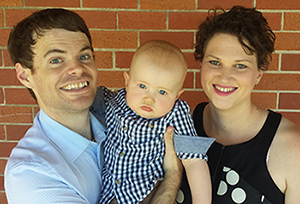 "My results showed that the participants completed the science program with significantly greater science teaching efficacy beliefs, which endured after graduation.
"These findings were of an international standard, and the science program can be considered an effective and flexible model for 21st century primary science preparation."
Dr Deehan's thesis title is 'Primary science for a new age: A mixed methods, multi-stage investigation of innovative practices in preservice primary science education'.
The three examiners commended it as a very high quality thesis which was a credit to Dr Deehan and his supervisors. One said, "The research and associated metrics will offer many new researchers a benchmark to model".
Another commented, "This thesis should serve as a model for other students who are attempting this approach to presentation. I find this dissertation to be highly complex, very well put together, well presented, and to be of great value to the international science education community of scholars. The student and his committee should be commended for a job well done."
ends
Media contact: Bruce Andrews, (02) 6338 6084
Media Note:

Contact CSU Media to arrange interviews with Dr James Deehan.
Dr Deehan graduated at the CSU Faculty of Arts and Education graduation ceremony on Thursday 14 December in Bathurst.
The lower photo shows Dr Deehan with his wife Hannah and their son Charlie. Hannah Deehan graduated with a Master of Information, Communication and Technology in Education at the same ceremony that day. She studied with the CSU affiliated IT Masters.