Closing the Gap is good paramedicine
Thursday 16 Mar 2017
Providing greater opportunity for Indigenous people to train as paramedics is one way that Charles Sturt University (CSU) is helping to close the health-care gap.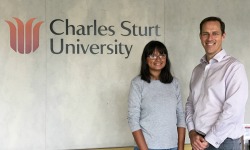 CSU paramedicine discipline leader in the School of Biomedical Sciences, Mr Phillip Ebbs said, "We need to maintain a paramedic workforce that is there for all members of the community and you can only do that by ensuring that our students are drawn from all parts of the community.
"Some of the most impressive future paramedics that I have ever met have been Indigenous Australians from more remote communities.
"Sometimes, high school leavers in remote communities have been unable to attain the required marks, simply because they were raised in a remote area with limited resources, or because of other factors occurring at the time."
Through pathway programs like the University's Indigenous Access Program and ongoing support through the Indigenous Academic Success Program, CSU has been building the representation of Indigenous students in the paramedicine program.
"Charles Sturt University has a strong international reputation as a leading paramedic university," Mr Ebbs said.
"We have a reputation for producing some of Australia's best paramedics, and for this reason, our graduates enjoy one of the highest graduate employment rates in Australia.
"A key to our success is that we promote diversity in our teaching and learning. Mature age students partner with school leavers, Indigenous students will partner with non-Indigenous students, students who grew up in the city learn from students who have only ever known the land. Every student learns from what their fellow students have to offer.
"Indigenous students made up 2.9 percent of our total paramedicine students in 2016, that's up from 1.4 per cent in 2011. In Port Macquarie, more than 6 per cent of our Bachelor of Clinical Practice (Paramedic) students are Indigenous.
"By promoting diversity, we aim to produce paramedics who work with, and provide emergency care to, people from all possible walks of life. It promotes an understanding, dignity and respect for all members of our communities."
Bachelor of Clinical Practice (Paramedic) student and young Barkindji woman, Ms Syan Garstang has just moved from Gosford to Port Macquarie to begin her studies at CSU.
"I always knew that I wanted to go to University and to be a paramedic but wasn't sure if my ATAR was going to be enough to gain entry," Ms Garstang said.
"The Indigenous Access Program at Charles Sturt University showed me a pathway and gave the confidence and support to take the leap to move away from home and to study.
"As a future paramedic I like the idea that I can help people and that each working day will be unique as I meet people from different walks of life.
"I think my Indigenous background gives me insight into cultural beliefs and the ways that Indigenous families operate, which will help me in my job to make a difference in the community."
CSU's three-year Bachelor of Clinical Practice (Paramedic) is offered in Bathurst and Port Macquarie and online.
ends
Media contact: Ms Emily Malone and Ms Fiona Halloran, (02) 6933 2207
Media Note:

CSU paramedicine discipline leader Mr Phillip Ebbs and Bachelor of Clinical Science (Paramedic) student Ms Syan Garstang are based at CSU in Port Macquarie, contact CSU Media for interviews.