Generous donation leads to $6 million boost to scholarships
Wednesday 1 Jan 2003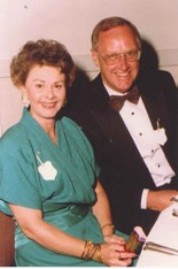 In an act of incredible generosity, Carole and Stanley Droder have bequeathed more than $3 million to the Charles Sturt University (CSU) Foundation to provide scholarships to residential undergraduate students.
Without the opportunity to achieve their own higher education aspirations, the late Carole and Stan Droder were passionate advocates for equality and accessibility in higher education for regional students.
Mr Droder had a distinguished career as an accountant in Sydney and Oberon and he loved to hear stories from young adults about their experiences in higher education. He often remarked to his friends how much he would have cherished the chance to study and live on a university campus. These same friends now say that given his natural charisma and nature, he would certainly have made life on campus lively and no opportunity would have been wasted.
Mrs Droder also valued higher education, generously supporting many of her friends' children as she saw through their experiences that university costs could place a substantial burden on families.
Throughout their lives Mr and Mrs Droder provided a range of university scholarships to support CSU students from similar backgrounds to their own, and this legacy now continues.
It was their hope that through a substantial bequest of more than $3 million to CSU they would be able to provide perpetual scholarships for students whose parents are tradespeople, small farmers or small business owners, or who are from single-parent households. Importantly for Mr and Mrs Droder, the scholarships encourage students to participate in campus life at a regional university.
Inspired by Mr and Mrs Droder's remarkable personal donation, CSU has committed its own $3 million to the CSU Foundation, bringing the total amount available to be invested for new scholarships to more than $6 million.
CSU Vice-Chancellor Professor Andrew Vann said the University was extremely grateful for the generosity of the Droders.
"This gift from Carole and Stan Droder is the largest personal bequest Charles Sturt University has received and will ensure many future generations of students can not only attend university to receive their qualifications but also enjoy the unique experience that is university life in a regional community," he said.
"Charles Sturt University is committed to expanding education opportunity in our communities and providing flexible access to education regardless of background or location. The generosity and vision of the Droders allows us to realise this commitment, and for that we are extremely grateful."
A non-profit organisation, CSU Foundation aids and promotes excellence in the education, research and service activities of CSU by seeking, receiving and administering private sponsorships for the benefit of the University, beyond the scope of CSU's general budget.
Philanthropic support helps improve University life and enhances outcomes for our students, their professions and communities via scholarships, industry placements, cooperative research projects and capital development programs.
ends
Media contact: Polly McDougall, 0429 217 026
Media Note:

Carole and Stan Droder Scholarships will be awarded to a continuing undergraduate student at each CSU campus at scholarship ceremonies taking place between 17 and 25 May 2016. Once awarded, the scholarship funds can be directed towards the cost of the student's degree, accommodation costs or other study expenses such as textbooks and equipment.
Additional Carole and Stan Droder Scholarships will be available from 2017 to continuing undergraduate students studying any course on campus at Albury-Wodonga, Bathurst, Dubbo, Orange, Port Macquarie or Wagga Wagga.
Further new scholarships to commence in 2017 funded by CSU's $3 million investment include:
Charles Sturt Foundation Aboriginal and Torres Strait Islander Vivacity Scholarships
Charles Sturt Foundation Work Placement Scholarships
Charles Sturt Foundation Refugee Persistence Scholarships
Charles Sturt Foundation Gumption Scholarships