The aged care workforce of the future
Tuesday 1 Mar 2016
Care for older Indigenous Australians, along with education and recruitment for aged care workers are the key issues Charles Sturt University (CSU) academic Dr Maree Bernoth wants a federal parliamentary inquiry to consider.
Loading...
The Senate Committee is investigating the future of Australia's aged care workforce and submissions close on Friday 4 March.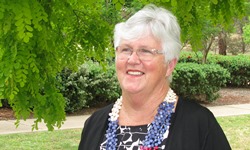 A senior lecturer at CSU's School of Nursing Midwifery and Indigenous Health, Dr Bernoth's research and teaching is focused on improving the quality of aged care.
"A key focus of my submission is the need to address the challenges of attracting and then retaining a skilled workforce for aged care in regional and rural areas," she said.
"We need people with the right skills knowledge and attitudes to work in aged care. Registered Nurses need to lead the clinical care team but they also need specialist skills and knowledge to provide quality care to frail older people.
"Education is at the heart of this issue and we need to show graduates that working in this sector can offer a rewarding career.
"Online learning makes it possible for universities and TAFE to work together with residential care facilities to provide further education for their staff."
Dr Bernoth said when planning for the future of our aged care workforce special attention needs to be given to catering for the needs of Indigenous peoples.
"We need to investigate how we provide appropriate aged care for older Indigenous peoples and in doing so we need to be encouraging Indigenous people to be participating in the aged care workforce," she said.
"We also need to provide them with education, support and career structure so they will teach us to be culturally competent in working with older Indigenous peoples.
"In teaching aged care, Indigenous stories are very powerful and it's something we've incorporated into the teaching program at Charles Sturt University by bringing elders into tutorials to speak with students."
Dr Bernoth also gave evidence to a NSW Parliamentary Inquiry into the need for Registered Nurses in residential aged care.
"The NSW government should fully adopt the inquiry's recommendations that Registered Nurses be on duty at all times in residential care facilities," she said.
"But there needs to be a nationally consistent approach, registration for all aged care workers with a statutory authority and background checks to ensure that vulnerable, elderly people are receiving the best possible care."
Dr Bernoth is also encouraged to see the issue of elder abuse in the public spotlight, with a NSW Upper House Inquiry and an inquiry by the Australian Law Reform Commission.
"We need to ensure that elder abuse in residential aged care is considered as part of these inquiries and that the process for making complaints is transparent and robust," said Dr Bernoth.
Dr Bernoth has made a submission to the NSW Inquiry on elder abuse. Read more here.
ends
Media contact: Emily Malone and Fiona Halloran , (02) 6933 2207
Media Note:

Dr Maree Bernoth is based at CSU's School of Nursing, Midwifery and Indigenous Health in Wagga Wagga. Contact CSU Media to arrange interviews.