HSC Online site proves a hit
Wednesday 6 Sep 2017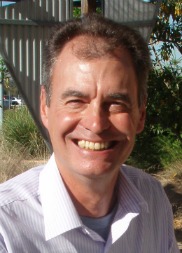 Data from Charles Sturt University's (CSU) newly launched HSC Online website proves its value for senior high students studying for the 2017 Higher School Certificate.
Mr Paul Grover (pictured), lecturer in education in the CSU School of Education in Albury-Wodonga, said the new website resource registered 12 500 hits in its first 50 days.
"Our aim was to fill the gap left by the demise of an earlier HSC study website, and with an average of about 250 students logging on each day we certainly seem to have achieved that," Mr Grover said.
"The various subject professional associations have been very positive in their support for the HSC Online website.
"Additional online resources – for subjects such as geography, and legal studies − are being added on the site as they are developed for HSC students.
"The huge success of the site with students highlights its value for their own study prior to the HSC exams next month.
"Since the students are on the verge of Trial HSC exams and are looking for study resources for at-home study, I think there will be a very large uptake as word about the site continues to spread."
Mr Grover has contacted all the professional associations, and key personnel in the school systems and education directorates in NSW to promote the site.
ends
Media contact: Bruce Andrews, (02) 6338 6084
Media Note:

Contact CSU Media to arrange interviews with Mr Paul Grover, who is based in Albury.