Treaty a first step to constitutional rights for Indigenous people
Monday 9 Jul 2018
* CSU academic argues a treaty a useful first step in recognising the constitutional rights for Indigenous people, but would not change the law
* Call for an elected advisory Indigenous body to advise Parliament on how legislation affects Indigenous people was modest
* Governments unwilling to effect the necessary constitutional change and to bring Australian public in support of it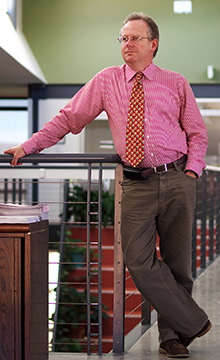 A Charles Sturt University (CSU) constitutional expert has told a parliamentary inquiry that the obstacle to the acknowledgement of constitutional rights for Indigenous people lies not in uncertainty about how to achieve it, but rather in governments' unwillingness to effect the necessary constitutional change.
Senior lecturer in law in the CSU School of Accounting and Finance Dr Bede Harris (pictured) has given evidence to the federal parliament's Joint Select Committee on Constitutional Recognition Relating to Aboriginal and Torres Strait Islander People following the publication of his written submission to the Committee, chaired by Senator Patrick Dodson.
Dr Harris said that recognition of Indigenous people as the original inhabitants of Australia, while of symbolic importance, was insufficient as a means of effecting real change in their constitutional position.
"I was critical of the government's rejection of the recommendation contained in the 2017 Uluru Statement from the Heart, in which Indigenous people had proposed that a Makarrata Commission be established to oversee treaty-making between the Crown and Indigenous people," Dr Harris said.
"My submission argued that a treaty would be a useful first step in recognising the constitutional rights for Indigenous people, but cautioned that because a treaty itself would not change the law, anything agreed to in a treaty would have to be put either into the Constitution or into statute.
"I therefore recommended that the Constitution be amended so as to confer power on the Commonwealth to enter into agreements with Indigenous people and to enact legislation to give effect to such agreements which would provide a mechanism for the establishment of institutions for Indigenous self-government."
Although Australia ratified the International Convention on the Elimination of All Forms of Racial Discrimination in 1975, the Constitution does not prohibit discrimination on grounds of ethnicity.
Dr Harris said that such a prohibition should be put in the Constitution, subject to Parliament having the power to enact legislation redressing historical disadvantage.
"I also suggested that an amendment should be put into the Constitution conferring a right on Indigenous people to language, culture and land and requiring the government to take steps to protect those rights," Dr Harris said.
Dr Harris noted the proposal contained in the Uluru Statement requested that an elected advisory Indigenous body be established to advise Parliament on how legislation affected Indigenous people. He said that the government's argument that this proposal would amount to the creation of a third house of Parliament was incorrect.
"The proposed body would have only an advisory role, the request for its establishment was modest, and that the government's curt rejection of the proposal was dismissive of the concerns of Indigenous people," Dr Harris said.
"I concluded by saying that Australia is – one would hope – a less conservative country than it was at the time of the 1967 referendum. Surely it would therefore not be too difficult a task – if our politicians could display moral leadership of the type that existed in 1967 – to overcome opposition to measures which Indigenous people have requested?
"What the history of the period 2007 – 2017 has shown is that the obstacle to the acknowledgement of constitutional rights for Indigenous people does not lie in uncertainty on how to achieve it. Rather it lies in an unwillingness on the part of governments to effect the necessary constitutional change and to bring the broad Australian public along in support of that project."
Dr Harris's written submission can be accessed on the Committee's webpage at https://www.aph.gov.au/Parliamentary_Business/Committees/Joint/Constitutional_Recognition_2018/ConstRecognition/Submissions
ends
Media contact: Bruce Andrews, 0418 669 362
Media Note:

Contact Dr Bede Harris on 0410 580 197 to arrange interviews. He is based at CSU in Albury-Wodonga.