CSU staff member paddles to world gold
Thursday, 16 Nov 2017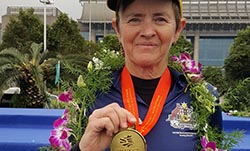 Charles Sturt University (CSU) staff member and paddler Dr Lisa Smallbone (pictured left) highlighted her sporting prowess as a member of the successful national dragon boat team, the Auroras, competing at the recent world championships in Kunming, China.
Dr Smallbone has returned to her Albury base with two gold medals as a member of the Australian Senior B Women's team that won both the 200-metre and 2000-metre championship finals. They defeated top teams from Canada and USA.
The keen sportsperson was part of a 200-strong national contingent that went to China for the championships, which were held from 18 to 22 October. This was the best result yet for the Australian Auroras at a world nations championship.
"It was a great honour to represent Australia and compete at such a high level," Dr Smallbone said.
"The racing was extremely close and we had to be highly focused and determined to beat Canada, who have dominated the masters division in world dragon boat racing in recent years.
"Their women's team had never been beaten before, and we managed to do it twice!"
Dr Smallbone is a member of Warriors Albury Wodonga Dragon Boat Club, based on the Border.
Media contact: Wes Ward, 0417 125 795
Media Note:

Contact CSU Media for interview with Dr Lisa Smallbone, who is based at CSU in Albury-Wodonga.