Endangered turtles at risk from illegal nets
Thursday, 23 Nov 2017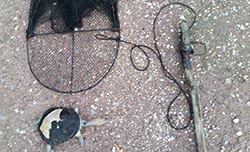 The use of illegal nets is placing populations of endangered species of native turtles at risk in Australia's inland waterways says a Charles Sturt University (CSU) expert.
"Our research shows the unthinking actions of people who fish for yabbies using 'opera house' nets are depleting populations of turtles, even here in Albury-Wodonga," said CSU researcher Dr James Van Dyke (pictured left), a turtle and tortoise expert with CSU's Institute for Land, Water and Society.
"I recently found a mature long-necked tortoise dead in one of these traps, which I pulled out of a dam in Thurgoona. Sadly, the female had got tangled in the trap and drowned.
"We know that there are very few young long-necked turtles left in the wild in southern Australia, particularly as foxes dig up over 95 percent of tortoise nests and eat the eggs and babies. So every unnecessary loss of an adult drives another nail in the coffin of this species as they take up to ten years to reach sexual maturity."
Dr Van Dyke hopes people will think twice about continuing to use these nets as they deplete many native species, not just turtles.
The busy researcher noted it is a busy time in general for native turtles, as they come out to nest during the spring storms.
"We are really keen to find where turtles are nesting and we have developed a mobile phone app to help us locate them," Dr Van Dyke said.
Members of the public can log the location of turtle nests they find at the TurtleSAT app, found here.
Media contact: Wes Ward, 0417 125 795
Media Note:

Contact CSU Media for interviews with Dr James Van Dyke, who is based in Albury-Wodonga.
Picture caption: A dead turtle captured in an illegal 'opera house' net found in Albury-Wodonga.