Active Living Longer project in Bathurst seeks participants
Monday, 9 Jul 2018
* CSU exercise research program in Bathurst seeks participants aged 50+
* Program supports long-term active and healthy lifestyles
* 22 per cent of Australian population will be aged 65 years and over by 2056
* CSU gym in Bathurst open to community members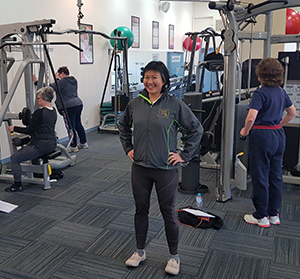 The Active Living Longer (ALLong) program at Charles Sturt University (CSU) in Bathurst seeks men and women aged 50 years and over to participate in its ongoing wellbeing and exercise research.
Dr Eevon Stott (pictured), adjunct research fellow in the CSU School of Exercise Science, Sport and Health in Bathurst, said the (ALLong) program aims to help adults aged 50 years and over to pursue long-term active lifestyle through applied science, education, and technology.
"The broad aim of Active Living Longer is to empower the community to get healthier, and we have started with group exercise sessions at the gym at Charles Sturt University in Bathurst as a safe and supportive environment," Dr Stott said.
"Statistics from the Australian Institute of Health and Welfare project that 22 per cent of the population will be aged 65 years and over by 2056. ALLong aims to assist this group to remain independent for longer.
"One of the exciting elements of this program for me is being able to test over time if a wellbeing program can not only assist with obvious improvements in physical ability, but if it can also affect mental or cognitive performance positively in older people. This is all about improving the overall quality of life as we age."
There are three elements to the ALLong program:
Group Exercise Sessions: Guided by an exercise scientist and modified for each person to suit to their capabilities.
Research: Participants in the Group Exercise Sessions can opt to participate in research comprising physical, physiological, balance, and wellbeing measures.
Education: Since physical function is only a part of the equation of active and healthy ageing, the ALLong program will expand its offerings to include workshops covering topics about nutrition, and cognitive and mental health.
Participants pay a small fee to attend, and the funds generated go towards maintaining sustainability of the sessions. Those who opt in for the research component will be able to use their results from the research to track their own progress over time.
"My current participants paid for an eight-session pass to the group exercise sessions, but already two have 'graduated' to joining the gym," Dr Stott said.
"In time we will offer Tai Chi classes at a cost of a gold coin donation, and an 'Exercise 101' theory and practical course.
"Further on, Active Living Longer hopes to collaborate with nutritionists to deliver workshops about eating for older adults, and I also plan to have an annual calendar of events to coincide with existing public awareness campaigns such as Seniors' Week, Falls Prevention Week, and so on."
"The research is longitudinal, and I take a set of measurements to provide to participants so their results motivate them to remain accountable to themselves as much as possible. The aim is to get them to repeat the measurement process every six months."
Gym supervisor CSU in Bathurst, Mr Stephen Howell, commended the ALLong program saying, "It's fantastic to see more and more people using this great facility. The gym staff have done a lot of work to improve the environment, plus we have purchased a lot more new equipment. The new extended opening hours have really hit a great note with our community patrons, and we can't wait to get more members."
ALLong begins in Bathurst, but the model will be expanded to include other Charles Sturt University campuses and regional communities in time.
For more information or to enrol in the ALLong program contact Dr Eevon Stott on 0408 721 752 or email estott@csu.edu.au
Media contact: Bruce Andrews, 0418 669 362
Media Note:

Contact CSU Media to arrange interviews with Dr Eevon Stott.