Alumni global champs return to present Master Class
Wednesday, 2 Aug 2017

Two marketing communications graduates who are now high profile industry executives with global success will return to Charles Sturt University (CSU) in Bathurst next week to present a Master Class.
CSU alumni Mr Chris Colter (pictured left), now Strategy Director of UM in Sydney and a global Gold winner at Cannes Young Lions in 2015, and Ms Charlotte Berry (pictured below), now UM's Strategy Executive and global Silver winner at Cannes Young Lions in 2017, will present the Master Class to advertising and public relations students on Monday 7 August.
Ms Anne Llewellynn, lecturer in advertising in the CSU School of Communication and Creative Industries in Bathurst, said, "This is an wonderful opportunity for our students to learn from people who educated at Charles Sturt University and have gone on to compete successfully on the global stage against industry representatives from around the world.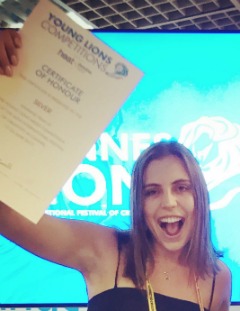 "Both were also IAA 'Big Idea' National Champions as members of CSU Kajulu student marketing communications teams, Chris in 2010 and Charlotte in 2015.
"Their Master Class will provide great background and insights to assist current advertising and public relations students to develop their recommendations for clients."
The Master Class will cover an overview of the current media landscape, principles of modern connection planning, finding the perfect insight, creative connection strategies for owned, shared and earned as well as paid media, and relevant case studies.
The Master Class on 7 August follows other recent Master Classes by industry leaders for CSU students.
Ms Louise Ferguson (Senior Account Director, Octagon) and Mr Ethan McLean (Head of Creative at Milkmoney) presented a Master Class on Wednesday 19 July. Octagon is a worldwide leader in brand engagement and specialises in creating dynamic brand engagement campaigns for its clients, across sports, lifestyle and entertainment. Milkmoney is a content creation company, creating engaging and compelling stories.
On Monday 31 July Ms Jane Mathews, Director of Membership and Professional Development with The Communications Council presented a Master Class. Her focus was on Account Management, a job which took her around the world. She also presented details of the highly sought after Communications Council 2018 Graduate Program for advertising and public relations graduates.
Media contact: Bruce Andrews, (02) 6338 6084
Media Note:
Contact CSU Media to arrange interviews with Ms Anne Llewellynn.