CSU-Community sports grants available
Thursday, 7 Sep 2017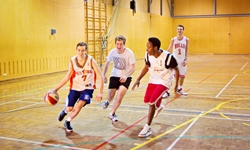 The Charles Sturt University (CSU) Community-University Partnerships (CUP) Rural and Regional Sports Development Program (Winter round) opened for applications from Monday 4 September.
The Head of Campus at CSU in Bathurst, Associate Professor Chika Anyanwu, said the CSU CUP Rural and Regional Sports Development Program provides registered community and sporting organisations with the opportunity to request a grant of up to $1 000.
"The Community University Partnership program builds capacity and aspiration through partnership and support for local organisations," Professor Anyanwu said.
"The aim of these grants is to encourage and support young people to participate in community sports, and can assist young rural sportspeople or teams to attend events, or provide equipment to assist to meet the cost of participation in sports programs. I look forwards to receiving submissions from teams and organisations within the Bathurst region."
The CSU CUP Rural and Regional Sports Development Program has a total of $25 000 available for allocation across all CSU campus communities. Applications close on Monday 2 October, and the guidelines and online application are here.
Applications should be submitted to the local CSU Head of Campus at hocbathurst@csu.edu.au.
Media contact: Bruce Andrews, (02) 6338 6084
Media Note:

Contact CSU Media to arrange interviews.