CSU CUP sports grants for Bathurst region
Tuesday, 11 Jul 2017
Charles Sturt University (CSU) has announced the successful Community-University Partnership (CUP) sports grants 2017 (Summer Round) for the Bathurst region.
Head of Campus at CSU in Bathurst Associate Professor Chika Anyanwu said, "The CUP Rural and Regional Sports Development Program is a small grants program offering $500 to $1 000 to assist young rural sportspeople or teams to attend regional, national or other one-off events.
"The grants also assist community sporting groups to host regional, national or other one-off events in the University's campus regions, and to provide equipment to assist young people who have difficulty meeting the cost of participation in sports programs.
"I congratulate all the successful grant winners and hope that our support goes a long way in helping them achieve their sporting ambitions."
The successful applicants for the Bathurst region are:
Western Region Academy of Sport – Sara Matthews to represent NSW at the National (Under 16) Basketball Championships in Perth from 8 to 15 July 2017. ($625 grant)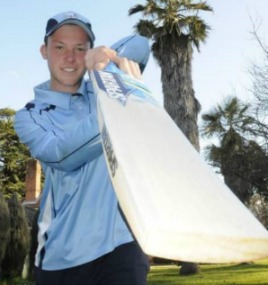 Western Region Academy of Sport – Darcie Morrison to represent NSW throughout all 4 rounds of the AON National University Rugby Seven's Series during the months of August and September 2017. ($625 grant awarded)
Blayney Rams Rugby Union Club – To purchase appropriate training equipment ($1 000 grant)
Bathurst Giants Australia Rules Football Club – To establish and support an Indigenous round within the local AFL. The grant funds will be used by the Giants to purchase a full set of AFL jumpers that will have Indigenous artwork within the design ($750 grant)
Denison College of Secondary Education, Bathurst High Campus – To support Ryan Peacock (pictured left) in the NSW Combined High Schools United Kingdom Cricket Tour. ($1 000 grant)
The CUP Sports (Winter) Round opens up on 4 September 2017, with applications closing on 2 October 2017. To submit an application please visit https://www.csu.edu.au/about/community/partnerships/grants
Media contact: Bruce Andrews, (02) 6338 6084
Media Note:

Contact CSU Media to arrange interviews with Associate Professor Chika Anyanwu, Head of Campus at CSU in Bathurst.
Photo credit: photo of Ryan Peacock courtesy of The Western Advocate, Bathurst.