CSU exercise and research info session for people aged 50+
Friday, 9 Nov 2018
* CSU seeks exercise and research participants aged 50+ in Bathurst
* Information session answers 'Why exercise? What type of exercise? How much exercise?'
* Regular exercise like Tai Chi can help older people feel safer in their ability to balance and decrease their fear of falling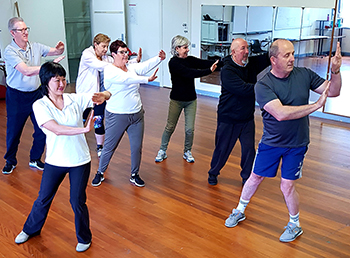 Charles Sturt University (CSU) will host an exercise and research information session on Thursday 15 November for people aged 50 and over in the Bathurst area who are interested to learn more about exercise to help prevent falls and improve their health.
The CSU Active Living Longer (ALLong) program led by Dr Eevon Stott (pictured front left in group photo), an adjunct Research Fellow in the CSU School of Exercise Science, Sport and Health in Bathurst, said, "People often wonder, and we are often asked, 'Why exercise? What type of exercise? How much exercise?'.
"We may not have all the answers, but as a university we're interested in measuring people's progress over time, and this shapes our research.
"We recently concluded an eight-week Tai Chi for Arthritis workshop for those aged 50 years and over because offering Tai Chi is aligned with ALLong's aim to empower the community to get healthier," Dr Stott said.
"Now that the Tai Chi workshop has concluded, the ALLong program is extending its efforts to bring more people into the gym to exercise to improve health and help prevent falls."
Dr Stott noted that statistics indicate that one-in-three people aged 65-years or over has a fall at least once a year.
"We must also remember that even if the fall does not lead to a physical injury, it can have a big social, psychological and economic impact on older individuals and their families," Dr Stott said.
"The gym is a safe and comfortable environment, and who would have thought we'd have women and men, some aged over 80-years, pumping iron? We started with group exercise sessions at the University gym in Bathurst, and in just a matter of weeks, we celebrated 'small' successes such as standing from a seated position without pushing off using the arms."
Dr Stott said she understands, however, that the gym environment is not for everyone, and cited the example of the recent eight-week Tai Chi program as an example of an alternative form of exercise that might interest some people.
"Some who may be starting from a very low level of fitness may find Tai Chi a better place to begin an exercise program," she said.
Dr Stott said she attended the workshop hosted by Health NSW last year to learn all about Dr Paul Lam's Tai Chi for Arthritis program.
"It was the simplicity of the program that I felt contributed to the solution to getting people to practise at home," Dr Stott said. "Comprising just six basic movements, I practise at least three times a day which helps me step away from working at my desk.
"Being able to speak Mandarin, I find myself using literal Mandarin-to-English translation to provide cues for the moves. It may sound like pidgin English, but it provides the important cues which help the participants learn and memorise all six movements in just eight hours.
"Fostering this independence to practise at home is our key objective in this Tai Chi program.
"We use a simple survey to track progress over the eight weeks because we are interested to know whether just eight weeks of Tai Chi can help a person feel safer in their ability to balance or perhaps decrease their fear of falling.
"When the current participants attend the exercise sessions at the University in the morning, we rarely get a chance to gather socially, so the research information session on Thursday 15 November will also be a valuable opportunity to tell the whole ALLong story!"
Active Living Longer Research and Information Session:
When: Thursday 15 November, at 5.30pm for a 6.00pm start
Where: in the lecture room at the CD Blake Auditorium (CSU gym), building 1220, Village Drive, Charles Sturt University, Panorama Avenue, Bathurst
Please RSVP via email by Tuesday 13 November with numbers attending
To find out more about ALLong, email estott@csu.edu.au
Media contact: Bruce Andrews, 0418 669 362
Media Note:

Contact CSU Media to arrange interviews with Dr Eevon Stott who is based at CSU in Bathurst.
Photo courtesy Dr Eevon Stott, shows D Stott front left with participants at the recent ALLong Tai Chi exercise program at CSU in Bathurst.