CSU law expert to lead discussion with best-selling Australian author
Wednesday, 26 Sep 2018
* CSU's Alison Gerard in-conversation with author Clementine Ford
* Event held at the Bathurst Memorial Entertainment Centre (BMEC) on Tuesday 2 October
* Clementine Ford authored best-selling book Fight Like a Girl and will discuss new book Boys Will Be Boys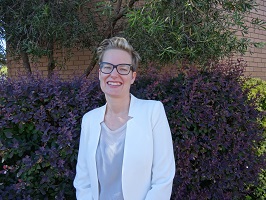 Charles Sturt University (CSU) Director of the Centre for Law and Justice Associate Professor Alison Gerard (pictured) will next week be in-conversation in Bathurst with best-selling Australian author Clementine Ford about her new book Boys Will Be Boys.
Inspired by a question often posed by parents, Ms Ford, author of the ground-breaking feminist book Fight Like A Girl, wrote Boys Will Be Boys in an effort to educate parents and carers on how to raise their sons in a way that prevents them from subscribing to masculinity that is toxic to themselves and also contemptuous of women and girls.

Ahead of next Tuesday's event, Professor Gerard said that this was an opportunity for the Bathurst community to gain important insights into gender stereotypes and how these assumptions about gender start at an early age. It is also a great opportunity to support the Bathurst Writers' and Readers' Festival in its events for 2019.

"Boys Will Be Boys is a personal account of parenting by Clementine Ford," Professor Gerard said.
"It addresses the levels of sexual and gender-based violence across the Western world. Through conversation, we will cover topics around gender and violence and how to negotiate the complexities of social change in promoting gender and racial equality.

As a passionate feminist researcher and leader through her role as Director of the CSU Centre for Law and Justice, Professor Gerard said the event for her will resonate with her research on women's lived experience and social change.

"My research has a social justice focus and aims to transform conflict through documenting and analysing the lived experience of people in the criminal justice system. My research has highlighted the agency of women in negotiating structural violence and its effects."

The discussion items with Ms Ford for next week's event will cover a very real and topical issue for young adults across regional communities in Australia.

CSU is leading the charge for cultural change around sexual assault and sexual harassment through the University's pastoral care program, 'Playing It Right'. More details about the program will be covered in next week's discussion with Professor Alison Gerard.
Event organisers, Bathurst Writers' and Readers' Festival in association with BooksPlus and Local Stages, welcome all to attend.

Event details below:
'In Conversation with author Clementine Ford' – a Bathurst Writers' and Readers' Festival event:
Time and date: 6.30pm Tuesday 2 October 2018
Location: Bathurst Memorial Entertainment Centre, William Street, Bathurst.
Cost:$20 adults and $15 concession.
All tickets purchased will go towards supporting the Bathurst Writers and Readers Festival in 2019.
Media contact: Hilary Longhurst, 0498 578 541
Media Note:

Media note: Contact CSU Media to arrange interviews with Associate Professor Alison Gerard, Director of the CSU Centre for Law and Justice.