CSU STRIVE leader offered position at award-winning public relations agency
Thursday, 13 Dec 2018
* CSU student Shannon O'Mara will graduate with a Bachelor of Communication (Public Relations) / Bachelor of Business Studies this Thursday 13 December in Bathurst
* Has been offered a full-time position at Sefiani Communications in Sydney
* STRIVE leadership program assisted in further growth as a leader
Charles Sturt University (CSU) Bachelor of Communication (Public Relations) / Bachelor of Business Studies student Shannon O'Mara (pictured) will graduate in Bathurst this Thursday ahead of taking on a position with Sefiani Communications in Sydney in 2019.

Ms O'Mara completed her degree full-time in Bathurst, where she also held the position of Head Resident for Towers (Bathurst) campus and also participated in STRIVE, a CSU Student Leadership Program.

The STRIVE leadership program according to Ms O'Mara was something that offered further growth as a leader in the community.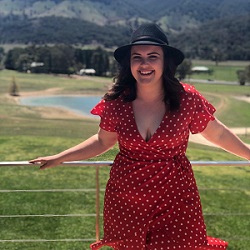 "I completed STRIVE in 2017 in the pilot stages of the program. It helped me take a look at my abilities to be able to grow as a leader in my role as Residential Advisor at the time, but also equipped me with the skills for future employment," Ms O'Mara said.

The Newcastle local chose CSU in Bathurst to fulfil her studies, due to a keen interest to fall into a fast-paced industry after graduation and a love for people.

"A good family friend suggested a career in PR, and for me, CSU's Bachelor of Communication (Public Relations) /Bachelor of Business Studies matched my selection criteria perfectly."

Having completed a number of internships including a five-month-long stint with Australian University Sport on their Eastern Uni Games in Newcastle in 2017 and a month full-time DEC PR in Sydney, Ms O'Mara is eager to sink her teeth into full-time work in 2019.

"I have been offered a job at Sefiani Communications in Sydney where I will commence in January next year. It's been great having completed internships to get a sense of the type of work I can look forward to."
With access to many CSU lecturers and mentors that are heavily connected and enjoy varied PR industry experience, Ms O'Mara attributes her university experience to them.

"Aside from being able to live with my best friends, it was that I could live and learn regionally while being taught by some industry professionals that spanned a wide range of careers."

"To me, this was a highlight and so important ahead of going into the workforce full-time" Ms O'Mara said.
Media contact: Hilary Longhurst, news@csu.edu.au
Media Note:

Contact CSU Media to arrange interviews with Shannon O'Mara