CSU students' blood donations save lives
Tuesday, 29 Aug 2017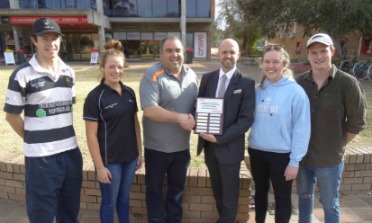 Students at Charles Sturt University (CSU) in Bathurst have tallied the second highest number of Red Cross blood donations across the state as part of a unique life-saving blood drive.
From March to July, CSU campuses in Bathurst, Wagga Wagga, Port Macquarie, Albury-Wodonga, Orange, Dubbo, and Goulburn competed to see who could save the most lives through blood donations in the Australian Red Cross Blood Service's inaugural Charles Sturt University Blood Challenge.
Student Liaison Officer at CSU in Bathurst Mr Scott Hatch said, "With young people the least likely to give blood on an ongoing basis, their donations have helped secure blood supplies over the critical winter months.
"The students in Bathurst made 142 donations, saving 426 lives, but were beaten by the much larger student population at the University in Wagga Wagga, where students made 348 donations.
"I applaud all our students at ten campuses and study centres who made a total of 768 donations during the Challenge, collectively saving more than 2 300 lives."
Red Cross Blood Service spokesman Mr John Feist congratulated all the students involved in the Charles Sturt University Blood Challenge.
"We hope their example will encourage other students and the wider public to join the cause and give others a second chance at life," Mr Feist said.
"We also urge all the students to continue donating blood despite the Challenge being officially over, as the need for blood never stops."
Mr Feist recently visited CSU in Bathurst to present a plaque to Mr Hatch and student representatives Mr Josh Buttenshaw, Ms Danielle Kenny, Ms Clare Porter, and Mr Brad Rushby.
The Charles Sturt University Blood Challenge is part of the Blood Service's Red25 program, a unique movement in which groups and organisations around Australia unite to save lives through blood donation. To donate, call 13 14 95 or visit donateblood.com.au.
Media contact: Bruce Andrews, (02) 6338 6084
Media Note:

Contact CSU Media to arrange interviews.
Photo shows the Red Cross's Mr John Feist presenting the plaque to CSU's Mr Scott Hatch and students (left to right) Mr Josh Buttenshaw, Ms Danielle Kenny, Ms Clare Porter, and Mr Brad Rushby.