Sprightly SPRUNG Festival set to sizzle at CSU in Bathurst
Tuesday, 11 Sep 2018
* Multiple productions and performances during the last two weeks of September
* Opening Ceremony from 6pm to 8pm on Wednesday 19 September is an evening of free entertainment starting with free barbeque, then a twenty-minute outdoor performance with fire twirling, large-scale puppets, dancing, and percussion
* Festival to showcase five original productions
The annual 2018 SPRUNG Festival of Creativity will leap to life at Charles Sturt University (CSU) in Bathurst from Wednesday 19 to Saturday 29 September.
The SPRUNG Festival is the work of theatre media students in the CSU School of Communication and Creative Industries in Bathurst and Cycle Productions. It involves dozens of students from all years and multiple productions and performances during the last two weeks of September.
This year's festival showcases the creative performance works of third-year theatre media students and will include five original shows each with a running time of 40 to 50 minutes.
The Opening Ceremony on the Wednesday 19 September is a free evening of entertainment appropriate for the whole family, as part of the CSU Future Moves Community Fun Night.
The event runs from 6pm to 8pm and starts with a free barbeque. It will feature a twenty-minute outdoor performance with fire twirling, large-scale puppets, dancing, and percussion, followed by live music and the festival bar.
This is the third SPRUNG festival for final-year theatre media student Ms Sienna Dillon who is the 2018 festival coordinator and spokesperson.
"It is so rewarding seeing all years of theatre media working towards the same goal," Ms Dillon said.
"Taking on the festival coordination for my final university role has been a tricky but rewarding experience. This year, we invite the Bathurst community to enter Festival though the elegant outdoor area of the Ponton Theatre courtyard.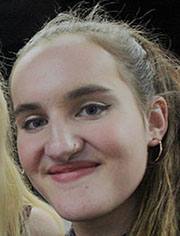 "Here they will be immersed in the exotic wonderland themed garden, where they will enjoy live music acts, the inexpensive bar between the shows, with the featured performing artist Bathurst's own Ms Gabbi Bolt (pictured left)."
The festival program includes:
* Rumble (a scene pictured above) − An immersive, chose-your-own adventure theatre experience into the Amazon, featuring an interactive app
* Schapelle, Schapelle − The musical, Corby's adventure from 'Brissie to Bali'
* In Between − A drama, where in the world of subconscious grief takes shape
* I Will Be King − A scripted psychological thriller interwoven with dance
* Sexpectatations − A verbatim and documentary-style theatre production exploring masculinity and femininity.
In addition to the festival's evening performances, the organisers are offering a special ticket price of $5 to encourage CSU staff to attend weekday matinee performances of two of the productions:
* In Between, at 11am Wednesday 19 September
* Rumble, 11am Wednesday 26 September
Tickets for the 2018 SPRUNG Festival are $15 for adults and $10 for students, and can be booked online here: https://www.sprungfestival.com/buy-tickets
Media contact: Bruce Andrews, 0418 669 362
Media Note:

Contact CSU Media to arrange interviews.