Students collaborate for better rural health
Thursday, 9 Nov 2017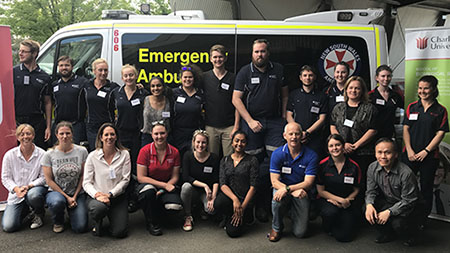 Students at Charles Sturt University (CSU) in Bathurst recently joined with students from Western Sydney University (WSU) for a one-day rural health education collaboration.
Associate lecturer in paramedicine in the School of Biomedical Sciences at CSU in Bathurst Ms Amanda Hlushak (front row, third from left) said the inaugural education day consisted of a series of inter-professional clinical simulations. These involved health students from the nursing and paramedicine programs at CSU and medical students from WSU's Bathurst Rural Clinical School.
"The event saw students participating in rural-focused clinical simulations which allow them to work alongside fellow students from other disciplines to prepare them for future workplace practice," Ms Hlushak said.
"Allowing students to work together in this way, before they enter the workforce, is likely to improve future workplace relationships and, most importantly, improve patient care outcomes."
Ms Hlushak explained that these types of collaborative education days are important initiatives in helping increase health professionals' knowledge of rural health issues, as well as helping to break down barriers that currently exist between health disciplines.
"Our aim is to continue to run these events, to provide our local students with a broader education experience, and to showcase Bathurst as an excellent regional educational provider in health," she said.
The inaugural one-day inter-professional rural health education event was staged at CSU in Bathurst on Saturday 14 October.
Media contact: Bruce Andrews, (02) 6338 6084
Media Note:

Contact CSU Media to arrange interviews with Ms Amanda Hlushak.
Photo shows students and lecturers who participated in the joint exercise at CSU in Bathurst on Saturday 14 October.