CSU Engineering students to head for Cambodia
Sunday, 25 Sep 2016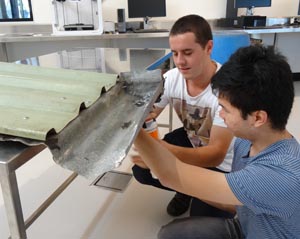 Charles Sturt University (CSU) engineering students will develop their humanitarian engineering skills by working with Australia's least developed neighbours, Cambodia, thanks to a partnership between the federal government and international charity Engineers Without Borders.
With financial support announced earlier this year through the New Colombo Plan initiative, over $120,000 will be available over three years to support CSU engineering students to travel to and work in Cambodian communities.
"This support will enable our students to apply skills and knowledge from their engineering studies to real-world situations in humanitarian engineering contexts," said coordinator of CSU's engineering course, Ms Andrea Goncher.
"It also reinforces important attributes we want our students to display: to be able to engage with people and communities, and to display social entrepreneurship.
"In addition, Engineers Without Borders will facilitate the program using their experience in managing volunteers and in-country partnerships in the Indo-Pacific regions."
The initiative will be launched during an evening event hosted by CSU Global Manager, Dr Shevahn Telfser, on Wednesday 28 September at CSU in Bathurst.
The support is part of $380,000 CSU is due to receive under the New Colombo Plan, which will be administered by CSU Global.
In previous years, students from CSU courses such as dental science and oral health, agricultural science, physiotherapy, business studies, occupational therapy, speech pathology, environmental sciences, psychology and creative arts have taken part in overseas studies through CSU Global.
Media contact: Wes Ward, 0417 125 795
Media Note:

The event to celebrate the launch of the next phase of the New Colombo Plan at CSU will run from 5.30pm until 7pm on Wednesday 28 September in the Engineering Building, CSU in Bathurst.
For interviews and pictures with CSU staff before, during or after the event, contact CSU Media.
See recent
examples of overseas visits by CSU students
through CSU Global
here
and
here
.