Festival of engineering for Bathurst
Wednesday, 1 Jun 2016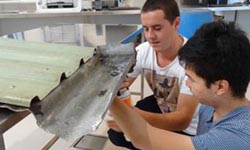 The engineering course at Charles Sturt University (CSU) will host a feast of all things engineering over three days next week on the Bathurst campus.
Engineering firms, local high schools and the wider Central West community will see and hear how the engineering profession assists national and local economic development and learn about opportunities to study engineering at CSU.
All visitors can view the first projects completed by the inaugural student group enrolled in engineering at CSU in Bathurst, which are part of the annual Engineers Without Borders challenge for university students. These projects aim to produce solutions that address engineering problems in developing countries. [See details here]
Day one (Tuesday 7 June 2016) will provide an opportunity for local engineers and their employers to address issues affecting them, including water quality, regional development, and the impact of local government restructure on the provision of engineering services to the community.
On day two, high school students will have their own work on show while teachers receive the latest information on engineering and technology for schools.
In the afternoon, visitors can also enjoy a comic debate on whether engineers would survive a 'zombie apocalypse'. The debate will take place in the environmentally sustainable CSU Engineering building, which will also be open for inspection throughout the three-day event.
During the debate, younger budding engineers will be entertained at the nearby 'creation station', with spaghetti bridges, gallery wall paintings, a magician and the magic of science.
Day three is the final demonstration of the student projects before they formally 'pitch' and exhibit their ideas in the gallery of the Engineering building.EngFest 2016 runs from 10am on Tuesday 7 June to 2pm on Thursday 9 June.
See the event program for details of activities.
Media contact: Bruce Andrews or Wes Ward, 02 6338 6084
Media Note:

For interviews with CSU Engineering staff during EngFest 2016, including course leader Professor Euan Lindsay, contact CSU Media.
To assist with catering and arrangements during the week, call CSU Engineering on (02) 6338 6300, send us an email, or see ourFacebook EngFest event for the latest schedule and event information.