Local justice experts provide legal experience
Thursday, 21 Jul 2016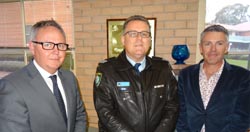 Three Bathurst justice experts have laid their experiences before at least 200 law students from Charles Sturt University (CSU) to help them learn about punishment and the state in the Australian legal system.
On Wednesday 20 July, Bathurst magistrate Michael Allen (left), Bathurst defence lawyer Shane Cunningham (right) and the police crime commander for Chifley region Acting Sergeant Colin Crome (centre) faced probing questions as part of an interactive panel for CSU students who are aiming to become police officers, social workers, psychologists and lawyers.
Over two hours, the panellists addressed the questions of 80 students in Bathurst on the goals and strategies of punishment, particularly from the viewpoint of regional Australia.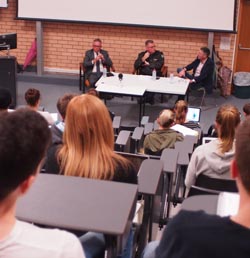 Panel coordinator Dr Kath McFarlane, who is a senior lecturer with the newly established Centre for Law and Justice at CSU, said the students in this subject were investigating, "How we punish, why we punish and the consequences for society if we get it wrong.
"The panellists provided unique perspectives on the practice and administration of various aspects of the criminal justice system, and exposed students to practical views and experiences they would not otherwise encounter," Dr McFarlane said.
In recognition of the 150 students enrolled in the subject across Australia via distance education, Dr McFarlane has also made the forum available as an audio file to students who were unable to attend in person.
Media contact: Wes Ward, 0417 125 795
Media Note:

For copies of pictures with the panellists and for interviews with Dr McFarlane, contact CSU Media.