Public lecture honours Indigenous rights leader in Dubbo
Thursday, 18 May 2017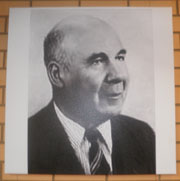 An Explorations Series public lecture at Charles Sturt University (CSU) in Dubbo on Monday 29 May will honour Indigenous rights campaigner Mr William Ferguson (pictured).
Head of Campus at CSU in Dubbo Ms Cathy Maginnis said the public lecture will be presented by former Senator Dr Aden Ridgeway.
"This free public lecture by Dr Ridgway will celebrate and acknowledge former Dubbo resident Mr William Ferguson and other local Indigenous leaders for their significant contribution in the mid-20th century resulting in the success of the 1967 Referendum," Ms Maginnis said.
"It is 80 years since Mr Ferguson launched the Aboriginal Progressive Association in 1937 in Dubbo, an initiative which helped drive the cause for justice for his people.
"His strong voice and the determined manner in which he articulated the sufferings of his people have led people to compare him to the visionary Reverend Martin Luther King in the USA.
"Thirty years later, 90 per cent of Australians voted for the justice he fought so hard for, empowering the government to make positive legislative change on behalf of the Aboriginal people. It is time we applauded this local unsung hero."
Dr Ridgeway was born in Macksville in northern NSW in 1962. He is a proud member of the Gumbayyngirr people, with strong family traditions. His life experience has been shaped by schooling at St John's College, Woodlawn, work as a park ranger, a court assessor, and CEO. He was the first Indigenous person to be elected as a federal Parliamentary leader when he held the position of Deputy Leader of the Australian Democrats in 2001-02. He retired as a Senator for NSW after six years of service.
He holds a Doctorate (Hon Lit) from the University of Technology, Sydney, and has served the Aboriginal community with ATSIC, the NSW Aboriginal Lands Council, and Indigenous Tourism Australia. He is currently the patron of the Centre for Aboriginal Independence and Enterprise, and the Saltwater Freshwater Festival.
This free public lecture at 6pm to 7pm Monday on 29 May is open to the community, CSU staff and students. It will be held in the lecture theatre (building 902, room 202) at Charles Sturt University, Tony McGrane Place, Dubbo, and will be followed by light refreshments.
The CSU Explorations Series is part of the Community-University Partnership program and aims to engage its rural and regional communities in discussion and debate about major issues facing our regions, the nation and the world.
Media contact: Bruce Andrews, (02) 6338 6084
Media Note:

Contact CSU Media to arrange interviews.