Young Bathurst artist exhibits at CSU in Dubbo
Wednesday, 28 Mar 2018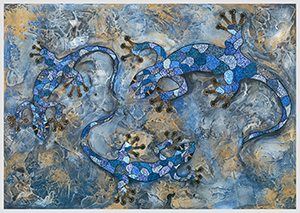 Talented Bathurst school student Will Hazzard will stage a solo exhibition of his works at Charles Sturt University (CSU) in Dubbo starting on Monday 2 April.
The 'Share the Earth' exhibition by the award-winning 16-year old artist will feature 22 works reflecting his love of animals and the environment. Mr Hazzard lives with his parents at a property at Meadow Flat near Bathurst, and is a student of the Dubbo School of Distance Education.
Head of Campus at CSU in Dubbo Ms Cathy Maginnis said, "We're truly delighted to host this outstanding exhibition by Will. By providing areas at the CSU Dubbo campus for local artists to exhibit their artworks, at no cost, demonstrates our ongoing commitment to the ethos of yindyamarra winhangana and our connection to the community."
Mr Hazzard has been awarded prizes for exhibiting at the Royal Bathurst Show, the Sofala Show, the Blayney Show, Textures of One, Evans Art Exhibition, Ironfest (Lithgow), and Waste To Art. One of his designs was chosen to feature at the NSW Department of Education music festivals. He won an 'Advocate for Children and Young People' competition and met the NSW Premier Gladys Berejiklian. His work has toured NSW as part of Operation Art, and is featured in an exhibition at the Art Gallery of NSW.
In June the University will call for Expressions of Interest (EoI) from interested artists to apply for exhibition time at CSU in Dubbo during the period July 2018 to June 2019.
Media contact: Bruce Andrews, 0418 669 362
Media Note:

Contact CSU Media to arrange interviews with Head of Campus at CSU in Dubbo Ms Cathy Maginnis.
Image: 'Lizard Trio (Our Home)' by Will Hazzard, acrylic on paper.
More information about the art of Will Hazzard can be found at https://willhazzard.com.au/