Successful CSU alumni join Council
Tuesday, 24 Sep 2013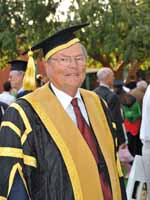 Charles Sturt University (CSU) Council
has welcomed the appointment of three new highly successful alumni to its ranks. Mrs Jennifer Hayes from Albury-Wodonga is a former senior executive of the Mars Corporation, including as a senior financial executive in Asia Pacific and Europe. Ms Saranne Cooke from Bathurst joins the Council from the energy sector and recently led a team working on energy sector reform in NSW. Ms Cooke is also a Director of the Western Medicare Local. Mr Jamie Newman from Orange is a member of a number of boards and committees, and is currently the Chief Executive Officer of the Orange Aboriginal Medical Service. He is a descendent of the Kalar tribe of the Wiradjuri nation. The new appointees join current CSU alumni members Mr Angelos Frangopoulos (CEO of SkyNews Australia and Board Member of the Victor Chang Foundation) and Mr Peter Hayes (a Wine Industry Consultant who has held senior positions with the CRC for Irrigation Futures, CRC for Viticulture and the Grape and Wine Research and Development Corporation). The Council also welcomed Mr Robert Fitzpatrick, an external independent appointee, who currently heads up the infrastructure, transport and logistics business with the National Centre of Excellence in ICT Australia and spent 7 years in global consulting for McKinsey in international business and technology. Under the leadership of Chancellor Mr Lawrence Willett, AO, the CSU Council has 15 members.
Media contact: Fiona Halloran, 02 6933 2207
Media Note:

For further information, contact University Secretary, As the governing body, the CSU Council is invested with all the authorities, functions and powers of the University.