Ontario, Canada
Teaching in China inspires further education
Monday 10 Jun 2013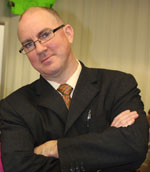 Working as a teacher and administrator for 17 years in China inspired Mr Andrew Watts to further his knowledge through study at
Charles Sturt University (CSU) in Ontario
. Mr Watts is one of 160 students who will be awarded a
Bachelor of Primary Education Studies
(BPES) in a ceremony on Friday 14 June. In China, Mr Watts was involved with accrediting international schools but didn't have a formal teaching qualification himself. When he moved to Canada he decided to pursue his passion for education and study at CSU. "The Bachelor of Primary Education Studies allows students to learn and hear about how to do something for two to three days and in the same week practice those ideas and theories in their ongoing practicum. It was the most stimulating and reinforcing way of learning something new," said Mr Watts. "My experience in China taught me to relish current research and to base my future steps as an educator on it. My study at Charles Sturt University has encouraged me to question styles and methods of teaching and to strive towards achieving an inclusive learning community".
Police Leaders Graduate
Friday 7 Jun 2013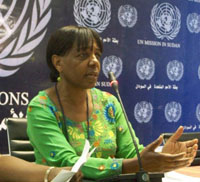 A police officer determined to improve the lives of vulnerable women and children in her own community and in war-torn countries will graduate from Charles Sturt University (CSU) in Ontario Canada on Friday 14 June. Staff Sergeant Isobel Granger from the Ottawa Police Service will be awarded a
Master of Leadership and Management (Policing)
in the graduation ceremony at the Burlington Convention Centre. Staff Sergeant Granger's area of expertise is in dealing with sexual and gender-based violence and, along with training United Nations personnel, she is part of an international team qualified to investigate war crimes. Read more
here
. Also graduating will be 12 members of the Ottawa Police Service and the Durham Regional Police Service who will be awarded a
Bachelor of Policing
. Course Coordinator Mr Brian Daly from CSU's
School of Policing Studies
said "The Bachelor of Policing is a very practically based policing program, where current police officers are able to apply their learning directly to their work, and apply their work to their learning".
Graduation at CSU in Ontario
Wednesday 5 Jun 2013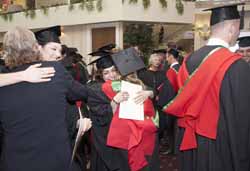 The achievements of more than 230 Charles Sturt University (CSU) students will be recognised in a formal Graduation Ceremony in Ontario, Canada on Friday 14 June. Distance education students will join nearly 200
Bachelor of Primary Education Studies
(BPES) and
Bachelor of Early Childhood Education
(BCES) graduands from
CSU in Ontario
to receive their awards in the ceremony at the Burlington Convention Centre from 12:30pm. CSU President and Vice-Chancellor Professor Andrew Vann, Associate Dean International Education and Partnerships Professor Pamela Gibbons, Executive Dean of Education Professor Toni Downes and Associate Dean of Policing and International Associate Professor Tracey Green will travel from Australia for the event and the occasional address will be delivered by Australian Consul-General and Senior Trade and Investment Commissioner, Ms Portia Maier.
Media Contact: Emily Malone, 02 69332207
Media Note:
to arrange interviews. The graduation ceremony for students from CSU in Ontario will be held from 12:30pm on Friday 14 June at the Burlington Convention Centre, 1120 Burloak Drive, Burlington.
Changing our view of teaching
Friday 1 Mar 2013
Changing educational views from teaching to 'co-learning' is the focus of the second
Bachelor of Early Childhood Studies Annual Conference
, being held at Charles Sturt University (CSU) in Ontario on Saturday 2 March. Titled 'Co-constructing Contexts for Meaningful Engagement', the conference will look at new ways to support the changing view of children, from the traditional view of teachers-learners in a classroom to that of teachers and pupils as co-learners using play, dance, technology, different cultures, and the outside environment. The keynote address will be presented by renowned early childhood education leader and role model, Professor Lilian Katz, who has lectured across Canada and USA and in 55 other countries. A holder of many academic honours, Professor Katz will share her knowledge of early childhood practices that she has observed in cultures around the world. "Lilian Katz both informs and challenges our conventional wisdom on early childhood education. Few others have contributed so much to the early years' landscape. We are so excited to host her at our conference," said conference organiser and program coordinator of CSU's
early childhood studies degree
at
CSU in Ontario
, Ms Karyn Callaghan.
Media Contact: Wes Ward, 02 6051 9906
Media Note: