CSU students get carbon foot in campus door
Wednesday, 8 Mar 2017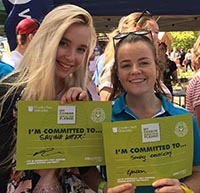 Students at Charles Sturt University (CSU) are aiming to change their behaviours to significantly reduce their carbon use in 2017.
During the recent Orientation Week, nearly 300 students at CSU in Albury-Wodonga, Wagga Wagga, Dubbo, Orange, Bathurst and Port Macquarie signed a pledge to reduce their personal carbon footprint.
CSU Green Manager, Mr Ed Maher, said that the students' behaviour changes would also contribute towards the University's carbon neutrality status.
"Charles Sturt University is currently the only University in Australia that has been certified as carbon neutral by the federal government. This means that we have done a lot of work to reduce our emissions and the remaining amount of greenhouse gases we emit into the atmosphere are equal to the amount that we offset through certified offset projects associated with reforestation in central NSW and a range of internationally-based renewable energy systems," Mr Maher said.
"The student pledges, which are a new Orientation activity, also make students aware of what it takes to be carbon neutral. The students embraced the initiative with absolute enthusiasm. This reminds us that our strong leadership in this area is important to these future leaders and professionals in the making."
Student pledges included actions aimed at reducing waste and improving energy efficiency as well as in conserving water.
Mr Maher said popular pledges included 'I'm committed to turning off my computer at the power point when not in use, using reusable bags and saying no to plastic and packaging, and get my coffee in a Keep Cup because I know disposable cups are rubbish and are not recyclable'.
"Charles Sturt University is supporting the students' pledges by employing four student Sustainability Advisers who live on campus and will lead sustainability initiatives with students and help them fulfil their pledges," he said.
The advisers will live on CSU in Albury-Wodonga, Bathurst, Orange and Wagga Wagga.
Media contact: Wes Ward, 0417 125 795
Media Note:

For interviews with CSU Green Manager Mr Ed Maher in Wagga Wagga contact CSU Media.
Images of student pledgers during Orientation can be found on the
CSU Green Facebook page
.