Indigenous businesses program coming to Dubbo
Thursday, 22 Jun 2017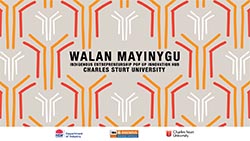 Strengthening Indigenous entrepreneurship and business know-how is the aim of a one-week Charles Sturt University (CSU) program to run in August in Dubbo.
Members of the Walan Mayinygu Indigenous Entrepreneurship Pop Up Hub project are visiting Dubbo on Monday 26 June to meet with the local organising committee and begin final preparations for a series of business innovation workshops to run from Monday 28 August to Friday 1 September.
Launched by Charles Sturt University (CSU) in partnership with the New South Wales Government and Indigenous Business Australia, the Walan Mayinygu Pop Up Hub project aims to strengthen Indigenous entrepreneurship in regional communities across NSW.
The program was developed by Associate Professor Michelle Evans to engage with and inspire Indigenous business people, as well as those thinking about going into business, by offering workshops, masterclasses, trade shows, networking events and opportunities for participants to pitch their business ideas.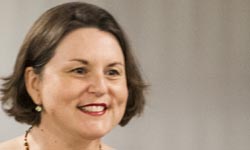 "We're excited to be in Dubbo on Monday meeting with a range of local stakeholders including Aboriginal business people," said Professor Evans, who is with CSU's Faculty of Business, Justice and Behavioural Sciences.
"We have twelve Aboriginal and Torres Strait Islander entrepreneurs teaching and presenting at the Walan Mayingu Dubbo program alongside professors from Charles Sturt University and executive educators from Melbourne Business School and the University of NSW."
In August, the Dubbo Pop Up Hub will begin with an official opening at the Dubbo Regional Theatre and Convention Centre, followed by a networking lunch and masterclass presented by a selection of successful Indigenous entrepreneurs.
Other activities to occur during the week include networking lunches as well as workshops for established businesses on legal issues, business management, and social media engagement.
Hour-long masterclasses held each day will focus on topics such as thinking as an entrepreneur, creating value financially and non-financially, and market orientation.
There is also a day-long Youth Innovation Program on Wednesday 30 August, while several keynote speaker will also address participants during the week.
"The Pop Up Hub will provide local people with a sense of what's available in term of business support. For some, it will pave the way for them to further develop their entrepreneurial interests and talents," said Mr Paul Schenk, Business Development Manager for the Western Office of Regional Development, NSW Department of Premier and Cabinet.
"This is a great opportunity for local people, and I encourage them to get involved. Harnessing and developing the entrepreneurial energy and talents of the Indigenous business community has the benefit of improving the overall economy of the region."
After the Dubbo event in August, Walan Mayinygu Pop Up Hubs will also take place in Albury, Port Macquarie and Lismore.
For further information and to register participation in the Walan Mayinygu Indigenous Entrepreneurship Pop Up Hub,go to this site or the Walan Mayinygu Facebook site.
Media contact: Wes Ward, 0417 125 795
Media Note:

For interviews on Monday 26 June with members of the Walan Mayinygu Indigenous Entrepreneurship Pop Up Hub project including Associate Professor Michelle Evans, contact CSU Media.