More than 125 students to graduate at CSU in Orange
Tuesday, 11 Dec 2018
* 129 CSU graduates at annual graduation ceremony in Orange
* 20th year since the commencement of the Bachelor of Physiotherapy course at CSU
* Graduation will be a reflection of significant results for both students and staff
Charles Sturt University (CSU) in Orange will recognise the achievements of 129 students at the annual graduation ceremony on Thursday 13 December.

The testamurs will be presented to graduates at the Derek Pigot Auditorium at Kinross Wolaroi School in Orange at 4pm.

The students will graduate from the Faculty of Arts and Education, Faculty of Business, Justice and Behavioural Sciences, and Faculty of Science.

Michael Newman will open the ceremony and deliver an Acknowledgment of Country with newly-appointed CSU Provost and Deputy Vice-Chancellor (Academic) Professor John Germov as Presiding Officer.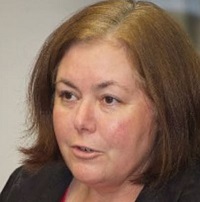 Head of Campus at CSU in Orange Dr Heather Robinson (pictured) said this year's graduation will be a reflection on some really significant achievements from both students and staff, from all faculties.

"Associate lecturer in clinical dentistry Dr Jessica Zachar won first prize of the Junior Category Colgate Competition at the annual meeting of the Australian and New Zealand Division, International Association for Dental Research."

"And 2018 will mark the 20th year since the commencement of the Bachelor of Physiotherapy course at Charles Sturt University." Dr Robinson said.

The graduation will also welcome the Chief Executive of Country Education Foundation of Australia, Orange resident and CSU Alumni Ms Wendy Cohen to provide the occasional address.

Dr Robinson said, "it is always a thrill to welcome back alumni to graduations and hear about their achievements over the years, particularly when they have entered back into the regional workforce in order to support local communities."

The CSU in Orange graduation ceremony starts at 4pm Thursday 13 December at the Derek Pigot Auditorium at Kinross Wolaroi School in Orange.
Media contact: Hilary Longhurst , 0498 578 541
Media Note:

Contact CSU Media to arrange interviews with Head of Campus Dr Heather Robinson.