New focus for Cellar Door at Orange
Thursday, 29 Oct 2015
A specialist wine testing laboratory is moving into the Cellar Door at Charles Sturt University (CSU) in Orange to service the Central West wine industry.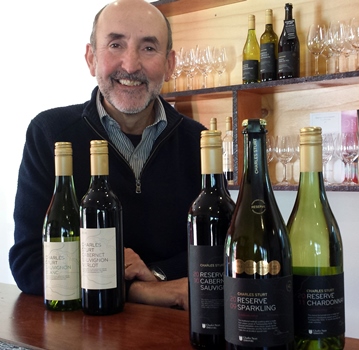 With the Cellar Door closing to the public at the end of week, the space at CSU in Orange is being leased to Vintessential Laboratories. Once a laboratory fit-out is complete, the ISO17025 accredited operations are planned to commence in January 2016.
Vintessential also operates laboratories in wine districts in Victoria, Western Australia and Queensland. The company offers a range of testing services for wine, cider, beer, water and plant material. They will also sell laboratory consumables, and winemaking products such as yeasts and enzymes.
Vintessential was founded in 1995 by Mr Greg Howell - a graduate of the wine science degree at CSU. Mr Howell said "We are thrilled to partner with Charles Sturt University to help support the flourishing wine industry in the Central West."
CSU Chief Financial Officer Mr Paul Dowler said, "As an institution focused on research, teaching and learning, Charles Sturt University is keen to foster strong industry engagement in a manner that supports the Central West region."
However, CSU continues to offer its stock of boutique wines online and through its Experimental Winery at CSU in Wagga Wagga. The Wagga Wagga Cellar Door remains open for business.
Mr Dowler said, "Plans are in place to develop a Shiraz and Chardonnay through the experimental winery with the 2016 vintage to be available later next year.
CSU farewells Winery Marketing Manager Mr Justin Byrne at the end of the week. He will continue his involvement with the University's new business model by developing online material.
Mr Jeff Clements, from Western Regional Wines, will service customers in the Central West as well as the Blue Mountains.
The Cellar Door at CSU in Wagga is in building 404, near car park 11, McKeown Drive, CSU in Wagga Wagga. It is open seven days a week from 11am to 5pm and 11am to 4pm on week-ends. Please call (02) 6933 2435 or go online here.
Media contact: Fiona Halloran and Emily Malone , (02) 6933 2207
Media Note:

The CSU Chief Financial Officer Mr Paul Dowler is available for interview at CSU in Orange on Friday 20 October. Contact CSU Media.
Vintessential CEO Greg Howell is available for interview on mobile 0409 87 2242. Photos of Mr Howell are available on request.Photo: Mr Justin Byrne in the Cellar Door at Orange.