Physiotherapy student games
Thursday, 14 Jul 2016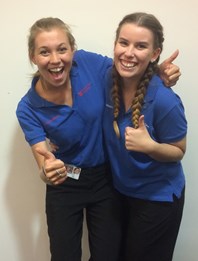 Physiotherapy students from Charles Sturt University (CSU) in Albury-Wodonga and Orange will this month meet in the NSW Central West for an inaugural sports competition.
The first ever CSU Inter-Physio Games will take place in Orange from Friday 22 July to Sunday 24 July.
Money raised during the weekend will go towards Cerebral Palsy Alliance.
Organised by the University's physiotherapy student associations from Albury-Wodonga and Orange, the weekend will see the students compete against each other on Saturday in netball, basketball, touch football, ultimate frisbee and soccer.
CSU Vice-Chancellor Professor Andrew Vann is due to attend the event on Saturday as well as a social function for the students at the Hotel Canobolas from 7pm on Saturday 23 July. On behalf of the Cerebral Palsy Alliance, Mr Rob Martinez will talk about the impacts of physiotherapy within communities.
On Sunday, the students will take part in a Pilates introductory course run by the Australian Physiotherapy and Pilates Institute.
Bachelor of Physiotherapy student Mr David Ternes said, "In addition to further developing the skills of the students, the event is being organised to introduce a 'friendly' rivalry between the two campuses."
The Bachelor of Physiotherapy is a four year program at CSU in Albury-Wodonga and Orange.
Media contact: Fiona Halloran and Emily Malone , (02) 6933 2207
Media Note:

Bachelor of Physiotherapy student Mr David Ternes is available for interview about the CSU Inter-Physio Games. Contact CSU Media.
Photo: Third year physiotherapy students Ms Bronte Glasby (left) with Ms Hannah Hart from CSU in Orange.