Social media sensation Tanya Hennessy headlining CSU student leadership conference
Tuesday, 30 Oct 2018
* Tanya Hennessy will deliver an address and Q&A with CSU students

* Students will also hear from entrepreneur Penny Locaso and Orange dancer Emmanuel Rodriguez

* 70 CSU student leaders expected to come together in two-day event to encourage development of leadership skills
Charles Sturt University (CSU) in Orange is hosting the 2018 CSU Student Leadership Conference with social media sensation and CSU Alumni, Tanya Hennessy, delivering a keynote address.

The two-day conference will host around 70 emerging student leaders from both on-campus and online courses with a primary focus on encouraging networking and turning ideas into action.

Deputy Vice-Chancellor of Students, Jenny Roberts said that the conference is an opportunity to bring together student leaders with a variety of experiences from different courses of study and campus locations.

"During the conference, students will participate in experiential learning activities, listen to guest speakers and come together for a networking and social event with the Vice-Chancellor's leadership team," Ms Roberts said.

"We've organised a talented line-up of keynote and guest speakers to present to gathered students. Each speaker will bring a diverse collection of skills and experience and will share their voices and life lessons."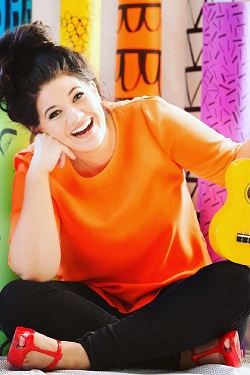 CSU Alumni Tanya Hennessy said she hopes students attending this week's conference will leave feeling inspired and knowing that they hold the power to their success.

"I hope people hear my story and know that I'm not different, or special – I'm just a hard worker, and that's what sets me apart." Ms Hennessy said.
Ms Hennessy, an author, radio personality and social media influencer with more than 1 million Facebook followers, studied the Bachelor of Arts Theatre Media at CSU.

Reflecting on her time at CSU as one of the best experiences of her life, Tanya said her message to student leaders attending the conference and to current CSU students is "say yes to everything and make your own opportunities."

"Don't rest on your talent, everyone is talented – what makes you different?" Ms Hennessy said.
"Always stay strong, be resilient and your failures are lessons to work out what you do and don't want to do."

Joining Tanya as a speaker at the conference is Penny Locaso, founder of BKindred and one of the most influential Australian female entrepreneurs of 2018, as well as Orange local Emmanuel Rodriguez, a dancer who has competed on So You Think You Can Dance and Australia's Got Talent. The pair will be covering diverse topics reflecting on their career paths including; humanising the future, goal-setting and personal passions.

The Student Leadership Conference is a CSU student-focused event and will run over Wednesday 31 October to Thursday, November 1.
Media contact: Hilary Longhurst, 0498 578 541
Media Note:

Media are invited to speak with Jenny Roberts and Tanya Hennessy at 8.45am Wednesday, 31 October. Please contact CSU Media to arrange interviews