CSU student for New York Marathon
Thursday, 25 May 2017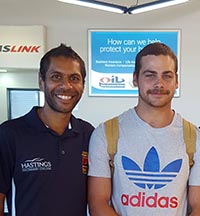 Charles Sturt University (CSU) Indigenous student Mr Zane Sparke [pictured right] is looking to fill some big footsteps after his selection for the 2017 Indigenous Marathon Projectsquad to run in the New York Marathon in November this year.
Zane, a first-year student in the outdoor recreation degree at CSU in Port Macquarie, and is one of only 12 Indigenous runners selected across Australia to be in the 2017 squad.
Squad members were selected on their running ability and their determination to help change their own lives and those of their families and communities.
To celebrate Zane's selection, and in conjunction with National Reconciliation Week, the inspirational documentary film Running to America will be screened at 6.30pm on Monday 29 May.
The film features Mr Charlie Maher [pictured left], the first Indigenous Australian to complete the New York Marathon as a part of the Indigenous Marathon Project in 2010.
Mr Maher lives in Port Macquarie and will be on-hand to talk about the project and his experiences after the film is shown.
Admission is by gold coin donation, with collected funds going towards the local running and walking group. The film will be screened in building 801 at CSU in Port Macquarie, Major Innes Road, Port Macquarie.
Media contact: Wes Ward, 0417 125 795
Media Note:

For interviews with Indigenous student liaison officer Ms Nina Cass, contact CSU Media.