CSU acting students showcase talents in Wagga
Monday, 9 Oct 2017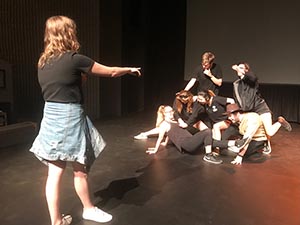 Final-year acting students at Charles Sturt University (CSU) in Wagga Wagga will present the stage and screen showcase (SASS) of their productions at the CSU Riverina Playhouse from Wednesday 11 to Saturday 21 October.
Dr Robert Lewis, lecturer in acting for stage and screen in the CSU School of Communication and Creative Industries Wagga Wagga, explained that in this 'Illuminate the Stage' festival of one act wonders', every third-year actor directs and acts in a one act play.
"With 17 plays presented in four 'seasons' over two weeks, this is a wonderful exercise for our graduating acting students to showcase their talent and skills as they enter the professional industry," Dr Lewis said.
"It is one of the highlights of students' three-year Bachelor of Stage and Screen (Acting), Design, and Production degrees. Acting students direct their own one-act stage production, from script selection, casting, design, production, and publicity. Each show will be revealed, and directors will have an opportunity to introduce their play.
"This exciting event in Wagga's theatre scene will bring local audiences plays from local, national and international playwrights, from Tennessee Williams to Van Badham, from David Williamson to Alex Broun."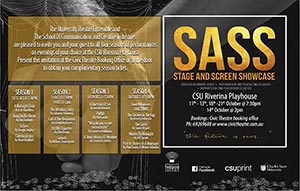 Seventeen plays will be performed in four seasons from Wednesday 11 to Saturday 21 October at the CSU Riverina Playhouse, with the season launch by the Mayor of Wagga Wagga at 7pm on Friday 6 October:
Season 1: Wednesday 11 and Thursday 12 October
Season 2: Friday 13 and Saturday 14 October
Season 3: Wednesday 18 and Thursday 19 October
Season 4: Friday 20 and Saturday 21 October
For booking information contact the CSU Riverina Playhouse on 6926 9688 or www.civictheatre.com.au.
Media contact: Bruce Andrews, (02) 6338 6084
Media Note:
Contact CSU Media to arrange interviews with Dr Robert Lewis.