CSU event in Wagga invites you to imagine your digital life
Tuesday, 4 Sep 2018
* CSU forum to explore new technologies that shape people's digital lives
* Speakers include industry experts renowned in their fields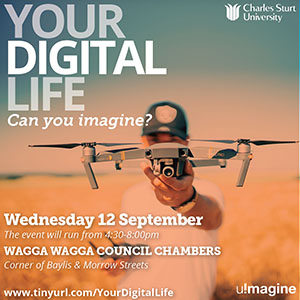 Charles Sturt University (CSU) will present the second in a series of community forums in Wagga Wagga to explore technologies that are already part of our daily digital lives and how they will continue to shape society
The 'Your Digital Life – can you imagine?' forum is presented by the uImagine team in the CSU Division of Learning and Teaching in Wagga Wagga on Wednesday 12 September.
uImagine's Mr Tim Klapdor said the event was opens to adults, business people, educators and the broader community of the Riverina region.
"The advent of digital technologies is impacting many aspects of our lives now and in the future," Mr Klapdor said. "This forum is designed to create an awareness of how drones, augmented reality, and virtual reality can impact the way we learn, live, and participate in the world around us."
"Participants will be guided by industry experts renowned in their fields. These specialists will explore how our lives are being impacted in ways most of us never imagined."
The 'Your Digital Life – can you imagine?' event offers the opportunity to:
* learn about new technologies that can shape people's digital lives
* experience virtual reality, and try augmented reality
* see different types of drones and how they are used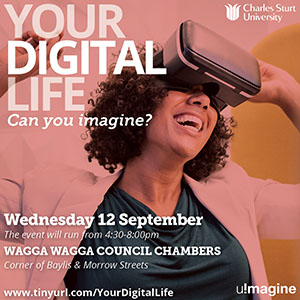 Mr Klapdor said that if people can't attend in person but would like to experience the forum online they can register at Eventbrite to watch the livestreamed event.
Register at https://tinyurl.com/YourDigitalLife
Watch the Livestream via http://waggawagga.tv/
This uImagine forum is supported by community partners, including Wagga Wagga City Council; Wagga Wagga TV; The Wagga Weekly; Jar Aero-Space; Essential Energy; Awe Media; and the CSU AgriTech Incubator.
The 'Your Digital Life – can you imagine?' event is from 4.30pm to 8.30pm at Wagga Wagga Council Chambers, corner of Baylis and Morrow Streets, Wagga Wagga.
Find out more about uImagine events here: https://uimagine.edu.au/events/
Media contact: Bruce Andrews, 0418 669 362
Media Note:

Contact CSU Media to arrange interviews.