CSU in Wagga Wagga recognises academic and community ties
Thursday, 4 Oct 2018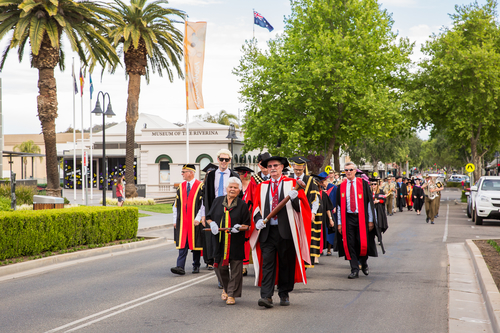 The annual Town and Gown procession of academics, staff and students from Charles Sturt University (CSU) and other Riverina educational institutions will grace the main street of Wagga Wagga on the afternoon of Tuesday 16 October.
The parade of academics, teachers, researchers and students will be joined by Mayor of the City of Wagga Wagga, Councillor Greg Conkey, OAM, and the Kapooka Army Band in recognition of education's contribution to the Riverina.
First held in 2005, the Town and Gown event was at first a precursor to upcoming CSU graduations, but it has since grown to reflect the educational institutions found in the Riverina.
The procession will include representatives from the wide range of teaching, training, learning and research organisations that call Wagga Wagga home.
CSU Manager of Community Relations and Acting Head of CSU in Wagga Wagga, Mr Aaron McDonnell said CSU strongly valued the contribution the University makes to the community.
"Wagga Wagga is city of education and the Town and Gown procession highlights the importance of this sector to the local economy and the social and cultural fabric of the community," he said.
Mr McDonnell said that some people who have never been to university or attended a graduation ceremony may perceive the parade as somewhat of a novelty, seeing people dressed in academic robes, wearing trenchers (mortar boards), and bonnets and draped in coloured sashes and stoles harking back to medieval times.
"The procession is a little different, but importantly it acknowledges the place of education and research in the life of Wagga Wagga, and allows the public the opportunity to encourage and thank those who teach and support those who are studying, no matter what institution they attend," Mr McDonnell said.
Starting at the corner of Morgan and Baylis Streets from 4.30pm on Tuesday 16 October the procession will make its way to the Civic Theatre precinct where a public reception will be held.
"We hope that business owners and shoppers, parents and children will line the street to watch the procession and cheer on those who contribute to the education of so many in this city," Mr McDonnell said.
He added it was a perfect opportunity for the community to meet academics and researchers who make a significant contribution to the region.
Media contact: Chris Gillies, 0439 068 752
Media Note:
Contact CSU Media to arrange interviews.