First writer-in-residence for 2017
Thursday, 16 Mar 2017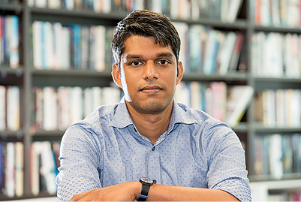 A new writer-in-residence at the Booranga Writers' Centre at Charles Sturt University (CSU) in Wagga Wagga will present two events in March.
The Centre's Creative Director Ms Kathryn Halliwell said Melbourne author Mr Rajith Savanadasa (pictured) will present a public reading on Thursday 23 March, and a writing workshop on Saturday 25 March.
"It is with great pleasure that Booranga Writers' Centre welcomes Rajith Savanadasa as our first writer-in-residence for 2017," Ms Halliwell said. "We feel privileged to have such a talented young writer sharing his work with us through the upcoming author reading, and Booranga writing workshop.
"I encourage all in the region who are interested in writing and literature to attend his public reading and the writing workshop."
Mr Savanadasa was born in Sri Lanka and now lives in Melbourne. He runs Open City Stories, an oral history project documenting the lives of a group of asylum seekers in Melbourne and is working on the next phase of it. He is currently working on a follow-up to his debut novel Ruins which has recently been longlisted for the Australian Literary Society 2017 Gold Medal award. Mr Savanadasa was shortlisted for the Asia-Europe Foundation short story prize in 2013, the Fish Publishing short story prize in 2013, received a Wheeler Centre Hotdesk Fellowship in 2014, and was part of the QWC/Hachette Manuscript Development Program in 2014.The March events will be held:

Thursday 23 March, 5pm to 7pm
Public reading at the Museum of the Riverina at the Historic Council Chambers, corner of Morrow and Baylis Streets, Wagga Wagga. All are welcome to this free event, with refreshments provided.
Saturday 25 March, 2pm to 4pm
Writing workshop at the Booranga Writers' Centre, Mambarra Drive at CSU in Wagga Wagga. All are welcome. The workshop is free to members of Wagga Wagga Writers' Writers Inc. and $5 for non-members.
Media contact: Bruce Andrews, (02) 6338 6084
Media Note:

Contact CSU Media to arrange interviews with Ms Kathryn Halliwell and Mr Rajith Savanadasa.