Hamlet opens 16 May at CSU Riverina Playhouse
Tuesday, 16 May 2017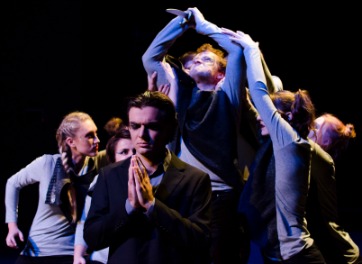 The University Theatre Ensemble (UTE) production of William Shakespeare's Hamlet opens on Tuesday 16 May for five nights at the Riverina Playhouse at Charles Sturt University (CSU) in Wagga Wagga.
Hamlet is the first production of UTE's 2017 season and is directed by Dr Robert Lewis, a lecturer in acting for stage and screen in the CSU School of Communication and Creative Industries in Wagga Wagga.
"Hamlet is arguably one of the world's most famous tragedies," Dr Lewis said. "It is set in the Kingdom of Denmark, a country on the brink of war, and is a story about a family and a man torn apart by murder, revenge, madness and living in a world of other people's appearances.
"This adaptation of Hamlet is performed by Charles Sturt University second-year Bachelor of Stage and Screen (Acting) students. The character of Hamlet is performed by a chorus, with each of chorus member representing an aspect of Hamlet's psyche such as lust, ambition, greed, revenge and torment.
"Our students are so lucky to have the CSU Riverina Playhouse as their performance venue," Dr Lewis said.
"UTE is unique in the fact that it is not only the performance arm of the Bachelor of Stage and Screen, it is also a vehicle for assessment, where students learn the craft of acting, take risks, and perform in challenging works."
Hamlet opens at the CSU Riverina Playhouse on Tuesday 16 May at 7.30pm, then plays Wednesday 17 to Saturday 20 May at 7.30pm, with a Saturday matinee at 2pm.
Tickets can be booked at the Wagga Wagga Civic Theatre Booking Office, telephone 6926 9688, or are available at the door. The University continues its policy of providing excellent value for money with tickets prices of $20 full price, $18 for groups (5 or more), $15 concession, and $12.50 for students. Book online at http://www.civictheatre.com.au/
Media contact: Bruce Andrews, (02) 6338 6084
Media Note:

Contact CSU Media to arrange interviews with Dr Robert Lewis.
Publicity image of the 2017 UTE production of Hamlet - photo credit: Rachel Baird