Medical scientists' regional conference in Wagga Wagga
Tuesday, 15 May 2018
* Medical science conference in Wagga Wagga on Saturday 19 May
* Presentations by three CSU medical science academics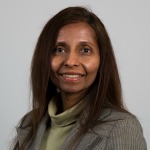 Three Charles Sturt University (CSU) medical science academics will present papers at the annual 2018 NSW South-West Division of the Australian Institute of Medical Scientists (AIMS) conference in Wagga Wagga on Saturday 19 May
Dr Thiru Vanniasinkam (pictured left), senior lecturer in immunology in the CSU School of Biomedical Sciences in Wagga Wagga said, "Organisers expect up to 70 people to attend the AIMS conference from across the NSW South-West region, including from Griffith, Dubbo, Bathurst, Orange, Wagga Wagga, and smaller places in between.
"We also expect participants from the Sydney region, and this year we hope to have a few from Victoria since Wagga Wagga is relatively close to the border," Dr Thiru Vanniasinkam said.
There will be 13 scientific presentations, with three by medical scientists from the CSU School of Biomedical Sciences:
* Dr Thiru Vanniasinkam, senior lecturer in immunology, 'Antibiotic resistance in Camylobacter jejuni in NSW'
* Dr Philip Bwititi, senior lecturer in biochemistry, 'Oxidative stress'
* Dr Wouter Kalle, lecturer in biomedical sciences, 'DNA Diagnostic – from karyotype to NGS'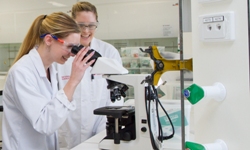 The conference organisers have offered discounted student registrations for the conference day to engage with students enrolled in the medical science degree at CSU in Wagga Wagga.
"Conferences like this are valuable to the region, as they provide Continuing Professional Development (CPD) within the pathology industry as our scientific program caters to the interests of scientists who are multi-disciplined," Dr Vanniasinkam said.
"Being proficient in a number disciplines is often required of scientists working in the smaller regional and peripheral laboratories, while those working in the bigger central laboratories are more likely to specialise," Dr Vanniasinkam concluded.
For more information see the conference flyer: https://www.aims.org.au/documents/item/982
Or visit the website: https://www.aims.org.au/events/event/nsw-south-west-div-conference-2018-f
The annual 2018 NSW South-West Division of the Australian Institute of Medical Scientists conference will be held at the Rules Club, 188 Fernleigh Street, in Wagga Wagga on Saturday 19 May.
Media contact: Bruce Andrews, 0418 669 362
Media Note:

Contact CSU Media to arrange interviews with Dr Thiru Vanniasinkam, Dr Phil Bwititi and Dr Wouter Kalle who are based at CSU in Wagga Wagga.
For further information contact NSW South-West Division of AIMS conference organiser Ms Christie Gordon on 0428 102 797.