MyDay in Wagga Wagga showcases CSU courses to future students
Tuesday, 3 Jul 2018
* 320 high school students expected for MyDay at CSU in Wagga Wagga on Friday 6 July
* Free MyDay event is a great start to preparation for university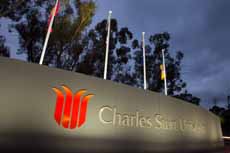 Senior high school students from across NSW and Victoria will attend a MyDay at Charles Sturt University (CSU) in Wagga Wagga on Friday 6 July to explore a range of courses and future study options.
CSU prospective student adviser Mr Andrew Connell said, "With around 350 students currently registered, we can expect about 320 students plus their parents to attend the MyDay.
"Students who have registered come from NSW and Victorian high schools, from as far as Melbourne and Sydney, as well as local schools across Wagga Wagga.
"The students who attend MyDay can learn about the courses we offer at Charles Sturt University in Wagga Wagga as well as general information about university and study. This free event is a great start to university preparation.
"Parents are also welcome to attend most sessions to learn more about courses and study at Charles Sturt University."
Courses to be explored by the students include accounting and business, agriculture, teaching and education, animal and veterinary sciences, oral health, medical imaging, medical science, nursing, agricultural and wine sciences, communication and creative industries, psychology and social work.
Media contact: Wes Ward, 0417 125 795
Media Note:

Contact CSU Media to arrange interviews with CSU prospective student adviser Mr Andrew Connell.
Registrations commence at 9.30am at The Hub, Building 20, at CSU in Wagga Wagga. The event runs across the campus from 10am to 2.30pm.