New writer-in-residence at Booranga Writers' Centre
Monday, 9 Jul 2018
* Award winning author for Booranga Writers' Centre residency
* Will present a free public lecture, and a writing workshop in Wagga Wagga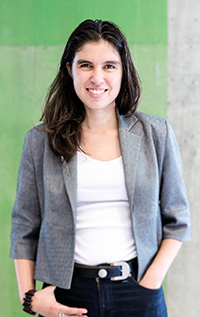 Award-winning author Ms Ellen van Neerven (pictured) has been announced as the third writer-in-residence at Booranga Writers' Centre in Wagga Wagga in 2018.
Vice President of Booranga Writers' Centre and senior lecturer in English in the CSU School of Humanities and Social Sciences in Wagga Wagga Dr Lachlan Brown said Ms van Neerven will be in-residence from Sunday 8 until Saturday 14 July.
"During her residency Ms van Neerven will deliver the ASAL Patrons Lecture at the Wagga Wagga Art Gallery on Friday 13 July, as well as conduct a writing workshop at Booranga on Saturday 14 July," Dr Brown said.
"Ellen is a writer of Mununjali Yugambeh and Dutch heritage whose first book, Heat and Light (UQP, 2014), was the recipient of the David Unaipon Award, the Dobbie Literary Award and the NSW Premier's Literary Awards Indigenous Writers Prize.
"Heat and Light was also shortlisted for The Stella Prize, the Queensland Literary Award for State Significance, and the Readings Prize. Ellen was named as a Sydney Morning Herald's Best Young Australian Novelist in 2015.
"Ellen's second book, a collection of poetry, Comfort Food (UQP, 2016) was shortlisted for the NSW Premier's Literary Awards Kenneth Slessor Prize and Highly Commended for the 2016 Wesley Michel Wright Prize."
Dr Brown said that until 2016 Ellen was the managing editor of black&write! Indigenous Writing and Editing Project at State Library of Queensland. She received the 2017 Queensland Writers Centre Johnno Award and the 2015 Express Media Award for Outstanding Contribution by a Young Person in Literary Arts. She currently lives and works in Melbourne.
The ASAL Patrons Lectures are hosted by ASAL with funding from the Copyright Agency," Dr Brown said. "These lectures support emerging and distinguished Australian writers to travel to locations around Australia to present a public talk or lecture on a topic of his or her choosing for a broader public.
"By bringing Australian writers into a wide range of communities, Patrons Lectures aim to stimulate broad interest in Australian writing and facilitate deeper understanding between writers, the academy, secondary teachers and the reading public."
Find more information about Ms van Neerven here: https://ellenvanneervencurrie.wordpress.com/
The ASAL Patrons Lecture is from 6pm to 8pm on Friday 13 July at the Wagga Wagga Art Gallery, Fitzmaurice Street, Wagga Wagga. While the public lecture is free, bookings are essential as seating is limited: RSVP
The Writing Workshop by Ms van Neerven is from 2pm to 4pm on Saturday 14 July at the Booranga Writers' Centre, Mambarra Drive, Wagga Wagga. The workshop is free for members, a $10 donation is requested from non-members: RSVP
For more information contact Booranga Writers' Centre Vice President, Dr Lachlan Brown, labrown@csu.edu.au or Booranga Creative Director, Kathryn Halliwell, director@booranga.com
Media contact: Bruce Andrews, 0418 669 362
Media Note:

Contact CSU Media to arrange interviews with Dr Lachlan Brown.