Slam poet champ is new Booranga Writers' Centre resident
Friday, 14 Jul 2017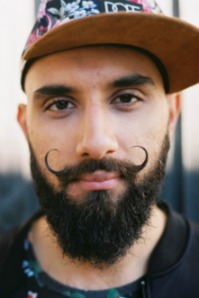 A poetry slam champion is the new writer-in-residence at Booranga Writers' Centre at Charles Sturt University (CSU) in Wagga Wagga.
President of Booranga Writers' Centre and adjunct senior lecturer in English at the CSU School of Humanities and Social Sciences Mr David Gilbey said he was pleased to announce Mr Zohab Khan (pictured) as the writer-in-residence for July.
"Booranga's new writer-in-residence is a charismatic poet-performer, hip-hop artist and international educator, celebrated as a compelling raconteur, proficient didgeridoo player, harmonica beat-boxer and percussionist," Mr Gilbey said.
"Since 2006, Zohab has been building a formidable career in spoken-word poetry, culminating in taking out the title of the Australian Poetry Slam Champion in 2014. Zohab is also the co-founder of The Pakistan Poetry Slam.
"Zohab has graced stages across the world and has conducted over a thousand poetry and self-development workshops at various prestigious institutions and festivals. His workshops aim to inspire change and confidence in people through spoken-word poetry and 'brain hacks'."
Mr Gilbey explained that with the incorporation of self-development techniques, spoken-word poetry becomes not just a platform for self-expression but also a means to inspire change and increase productivity.
"As a fourth generation Australian of Pakistani heritage and having been raised in Griffith and Wagga, Zohab has channelled his distinct life experiences into exemplary stories," he said. "He confronts a range of social justice issues from racism to socio-economic disparities, and his high energy and powerful words have left many inspired."
In 2017 Mr Khan will release of his first book in Japanese, and second collection of poetry in English. See more of Mr Khan's performances on YouTube here and here and here.
A number of events featuring Mr Khan will be held in Wagga Wagga and Griffith later in July:
'Zohab at Sonder' on Friday 21 July from 6.30pm to 8.30pm, a free admission Performance Reading at Café Sonder, Fitzmaurice St, Wagga Wagga. Local slam poet Nutmeg Jacquelin will also be performing at this event. Food will be available for purchase from a special menu including share platters as well as cakes and drinks.
Writing Workshop on Saturday 22 July from 2pm to 4pm at Booranga Writers' Centre, Mambarra Drive, Wagga Wagga. Free to members, a $5 donation is requested from non-members.
Poetry Slam and Open Mic Night on Thursday 20 July from 5.30pm to 7pm at Griffith City Library, Banna Ave in Griffith. Free admission.
Media contact: Bruce Andrews, (02) 6338 6084
Media Note:

Contact CSU Media to arrange interviews with Mr David Gilbey and Mr Zohab Khan.