Social work students from India experience Wagga
Thursday, 27 Jul 2017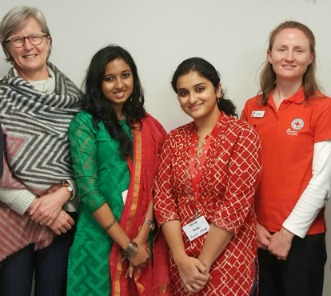 Charles Sturt University (CSU) in Wagga Wagga is providing an international study program to give social work students from India experience with Australian human services organisations.
Course Director at the CSU School of Humanities and Social Sciences Ms Therese Jones-Mutton said the School is currently hosting two students from Rajagiri College in Kerala, India.
"The School has been visiting the university in Kerala for a number of years with groups of students and this is the first time we have been able to reciprocate the hospitality we received in Kerala," Ms Jones-Mutton said.
The students from Kerala, Ms Nefertiti Sweet and Ms Arsha Baby Joseph, are both undertaking the Master of Social Work and are here for the month of July.
"We have developed a program for them to provide exposure to a range of human services in the Wagga Wagga area," Ms Jones-Mutton said.
"Most of the students' time has been spent visiting agencies and finding out about the model of service delivery and the issues that affect marginalised Australians.
"The students also have had the opportunity to experience campus life and attend lectures."
The agencies include Relationships Australia, Wagga Women's Health Centre, and South West Brain Injury Rehabilitation Service, and the students experienced a full-day exploring the work that the Red Cross is engaged with locally.
Ms Jones-Mutton explained that the Human Services Team in the School of Humanities and Social Sciences is committed to supporting a reciprocal arrangement with its international partners, and the program is supported by CSU Global.
"The School's relationship with Rajagiri College began in 2012 when one of our academics Dr Bill Anscombe visited the college in India," she said.
"Our first student study tour to Kerala was in 2015, led by our colleague Ms Heather Boetto. A second group of students visited in January this year, led by Ms Belinda Cash."
Ms Sweet and Ms Joseph were formally farewelled by CSU staff at a dinner on Wednesday 26 July prior to the conclusion of their study visit on Friday and their departure for India on Sunday 30 July.
Media contact: Bruce Andrews, (02) 6338 6084
Media Note:

Contact CSU Media to arrange interviews with CSU's Ms Therese Jones-Mutton, or Ms Sweet and Ms Joseph.
Photo shows Ms Nefertiti Sweet (centre left) and Ms Arsha Baby Joseph (centre right) with Australian Red Cross CEO Ms Judy Slatyer (left) and Red Cross MSP Ms Kate Tralaggan (right) in Wagga Wagga recently.