Workshop, readings and launch for Booranga writer-in-residence
Thursday, 18 May 2017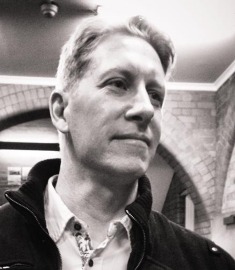 Booranga Writers' Centre at Charles Sturt University (CSU) in Wagga Wagga welcomes Dr Nathanael O'Reilly as its writer-in-residence from 17 to 30 May.
Dr O'Reilly (pictured) is an Australian-born poet now living and teaching in the United States. During his residency his latest collection of poetry, Preparations for Departure, will be launched by Dr Lachlan Brown, a Wagga Wagga poet and senior lecturer in English at the CSU School of Humanities and Social Sciences.
Dr Brown said, "Nathanael O'Reilly was born in Warrnambool and raised in Ballarat, Brisbane and Shepparton. His poems have appeared in journals and anthologies published in nine countries. He has travelled on five continents and spent extended periods in England, Ireland, Germany, Ukraine and the United States, where he currently resides and teaches Australian, British, Irish, and postcolonial literature at Texas Christian University in Fort Worth, Texas.
"I'm particularly excited that a poet and academic of such high international standing is revisiting Wagga Wagga and will launch his new collection of poems here. It will be great for students, staff and the community to have immediate access to this gifted writer/scholar."
Dr O'Reilly will present a writing workshop and public readings during his residency, and at the book launch on Tuesday 23 May he will read from this newly published collection. Dr Brown will also read some of his own new work.
Further information on Dr O'Reilly's newest publication can be found here
https://uwap.uwa.edu.au/collections/poetry/products/preparations-for-departure
Writing Workshop, 2pm to 4pm on Saturday 20 May
Booranga Writers' Centre, Mambarra Drive, CSU Wagga Wagga
Free for members of Booranga Writers' Centre, $5 for non-members
Public Reading and Book Launch, 5.15pm to 7pm on Tuesday 23rd May
Historic Council Chambers Wagga Wagga, free event
Public Reading, 5.30pm to 7pm on Thursday 25th May
Griffith City Library, free eventFor more information please contact Ms Kathryn Halliwell director@booranga.com or Mr David Gilbey dgilbey@csu.edu.au
Media contact: Bruce Andrews, (02) 6338 6084
Media Note:
Contact CSU Media to arrange interviews.