Robots get partnership grant from CSU
Sunday, 11 Jun 2017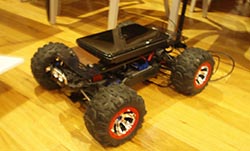 A project to provide equipment to teach robotics in a Corowa school has been awarded $1 000 through the Charles Sturt University (CSU) Community-University Partnerships (CUP) program.
Principal at St Mary's Primary School in Corowa, Mr Glenn McMahon, said the grant will be used to purchase robots to enhance the coding education already practiced at the school.
"This is part of our push to encourage education in science, technology, engineering and mathematics (STEM) in our schools," Mr McMahon said.
"For example, in our school we want to develop a rural hub for digital technology and STEM education accessible to 40 schools within one hour drive of Corowa.
"We are so excited to have been the recipients of this grant. We can't wait to put it into action," Mr McMahon said.
In the latest round of grants, the University provided around $25,000 for community projects across all its campuses, from Albury-Wodonga to Port Macquarie.
Head of Campus at CSU in Albury-Wodonga, Dr Jenni Munday, said "the CUP program supports the development of our regions through contributions to cultural, economic, sporting and related activities.
"It also builds aspirations and awareness of higher education particularly among young people living in rural and regional communities.
"This year saw a number of CUP grants awarded to projects involving STEM education in regional schools.