Meet Darlene Dy CSU international graduate
Friday 15 Dec 2017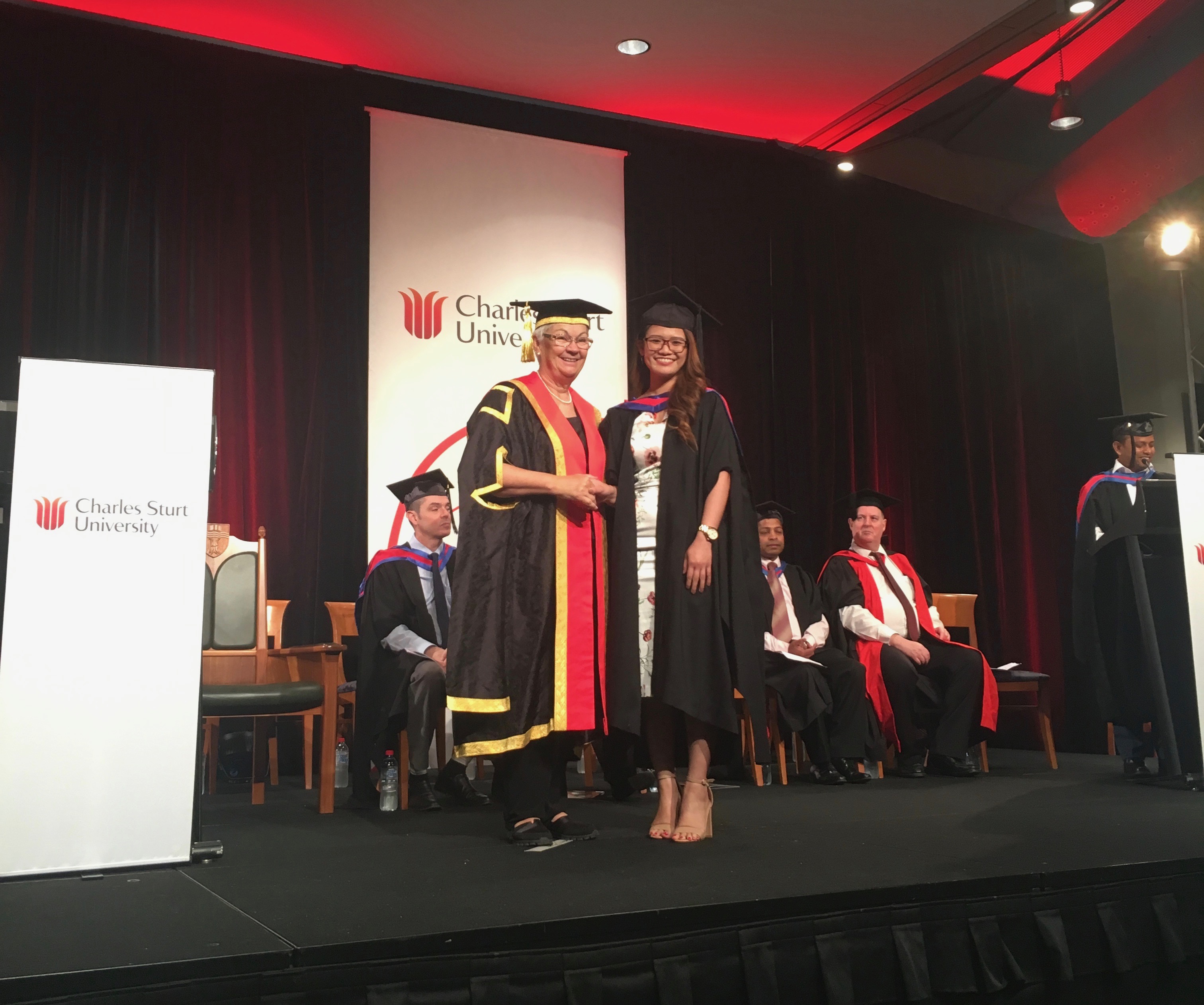 A Charles Sturt University (CSU) master graduate's study will make her globally competitive as she embarks on her career in accounting.
Talking about the advantage of international study, Ms Darlene Dy said the CSU School of Accounting and Finance Master of Professional Accounting program gave her the opportunity to meet with other international students and lecturers that broaden her perspectives.
When talking of her parents' reaction to studying in Australia from her home in the Philippines, Ms Dy said, "They realised the importance of international education and exposure, and that it would give me significant career advantages."
With a sister already living in Sydney, Ms Dy had help in making the adjustment to the Australian way of life. She said the change in culture, living away from the family home and striking a balance between work and study were particularly challenging at first.
"Balancing work and studies was also a challenge especially because I'm the kind of student who doesn't settle for mediocrity in my assessments and exams.
"I overcame the challenge by being disciplined and managing my time well, making sure I started working on my assessments way before the deadline," Ms Dy said.
Her study ethic and hard work paid dividends as she has graduated with Honours and the CSU Study Centre's Academic Director's Commendation as well as securing a scholarship and academic achievement awards throughout the program.
After studying for two years, Ms Dy will now focus on her future.
"While I was very happy that I didn't have exams in the foreseeable future, completing my studies made me feel scared of the uncertainties that were coming," she said.
"Will I find an accounting job as a fresh graduate? Should I find a second job even if it's not in accounting? Should I take part in a Charles Sturt University internship program? These were some of the questions that were plaguing my mind even before final exams.
"Being a student was something constant in the last two years so it was quite a change when I completed my degree."
For now, Ms Dy works as an assistant accountant for an Australian company where she has been able to apply her CSU study in a professional environment.
"It's amazing how the theories learned in the classroom have helped me settle into my new role and it excites me every time I am able to connect theory to practice," Ms Dy said.
Ms Darlene Dy, who graduated 12 December in Sydney, is an international student from the Philippines.
ends
Media contact: Chris Gillies, 0447 757 066
Media Note:
Contact CSU Media to arrange interviews with Ms Darlene Dy.